Dead Reckoning, the graphic novel imprint of the Naval institute Press, has three new original titles lined up for Fall 2021.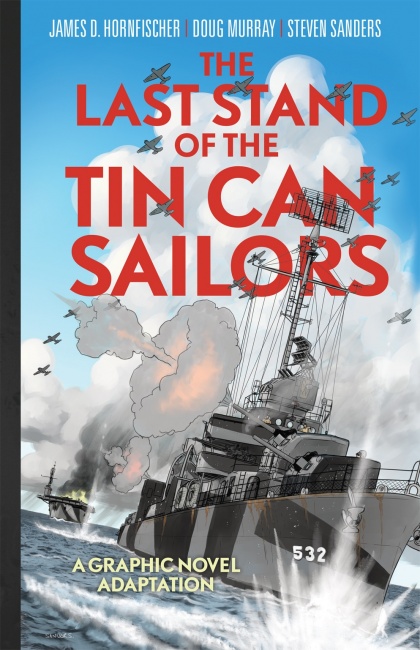 The Last Stand of the Tin Can Sailors,
by James D. Hornfischer, Doug Murray, and Steven Sanders, tells the story of the Battle of Samar, in which a small group of escort ships held off the Japanese Army in one of the great last stands of World War II. The battle took place in 1944, when the Allied forces began landing on the Philippine island of Leyte. The Japanese counterattacked and successfully lured the American fleet away from the island. Only a small task unit of 13 ships stood between the Japanese fleet, headed by the legendary battleship Yamato, and the island. This book, adapted from Hornfischer's prose work, tells the story of how that small group, known as Taffy 13, held off the much more powerful Japanese naval fleet. Murray was the main writer for the Marvel series
The 'Nam
and collaborated with Frank Cho on
Jungle Girl
; Sanders is an artist who has worked for Marvel and Image.
The Last Stand of the Tin Can Sailors
will be released on October 20 as a 208-page hardcover with an MSRP of $29.95.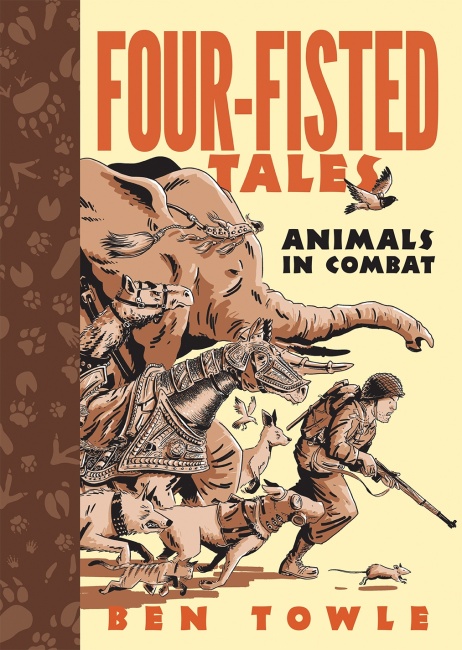 Four-Fisted Tales: Animals in Combat,
by Ben Towle, is a collection of stories about animals who played a significant role in war, either as companions to the human warriors or as instruments of war themselves, like the African elephants led by Hannibal across the Alps to invade Rome and the rats who sniffed out mines during the Vietnam War. Dead Reckoning actually announced this project in 2018 and released a preview at that time (see "
New Projects Announced by Dead Reckoning
"). Towle is the creator of
Oyster War, Amelia Earhart: This Broad Ocean, Midnight Sun,
and
Farewell, Georgia.
He has been nominated for four Eisner Awards. Four-Fisted Tales will be released on August 18 as a 120-page paperback with French flaps and an MSRP of $24.95.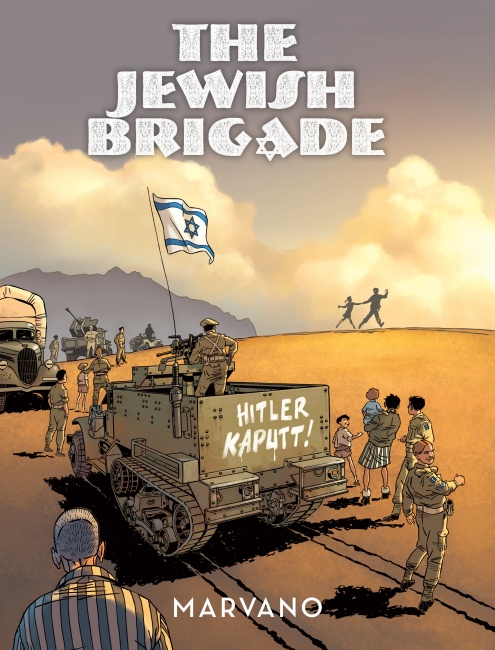 The Jewish Brigade,
by the Belgian creator Marvano, is a fictional story that follows Leslie Toliver, an English race-car driver, who joins the Jewish Infantry Brigade Group of the British Eighth Army as the war is coming to an end. Once the war is over, Toliver travels to Italy to help find Holocaust survivors and track down Nazis who have fled to Soviet-occupied Eastern Europe. While rescue and vengeance are on his mind, he also has another mission: to find his mother and his fiancée, both of whom disappeared during the war. While Toliver's story is fictional, the Jewish Brigade and its exploits are real. Marvano is the creator of a number of graphic novels and is probably best known for his adaptation of Joe Haldeman's novel
The Forever War
(see "
Review: 'The Forever War' (Graphic Novel)
"). Dead Reckoning will publish
The Jewish Brigade
on September 15 as a 144-page paperback with an MSRP of $24.95.