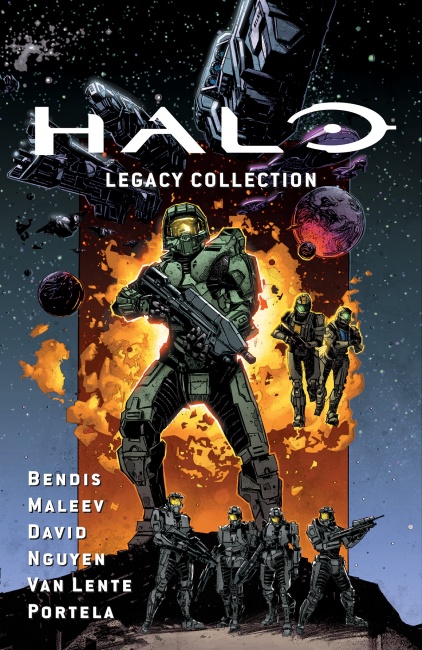 Dark Horse Comics announced
Halo: Legacy Collection
TPB which will hit stores on August 11.
This TPB collects three Halo stories, Halo: Uprising, Helljumper, and Halo: Blood Line, into a single 464-page volume. These comic limited series were originally published by Marvel Comics starting in 2007. These stories were penned by all-star talent such as Brian Michael Bendis (Superman, Ultimate Spider-Man), Peter David (The Dark Tower: The Gunslinger Reborn, Spider-Man 2099), and Fred Van Lente (Conan the Avenger, Resurrectionists). Artwork is by longtime Bendis collaborator Alex Maleev (see "Brian Azzarello and Alex Maleev Team Up for 'Suicide Squad: Get Joker!'"), Eric Nguyen (X, Gigantic), and Francis Portela (Black Panther, X-O Manowar) with colors by Matt Hollingsworth (Seven to Eternity, Tokyo Ghost), Jose Villarrubia (Sweet Tooth, Hungry Ghosts), June Chung (The Dreaming, Batman), and Ulises Arreola (Batgirl, Shadowman).
Halo: Legacy Collection TPB will also contain exclusive interviews with the creative teams and behind the scenes art. It will retail for $19.99.
Marvel Comics recently announced a collection featuring some of Dark Horse's comics. Predator: The Original Years Omnibus Vol. 1 HC is scheduled for release in July (see "Marvel Comics Collects Dark Horse's 'Predator' Comics Into a New Volume ").
Click on Gallery below for full-size images!