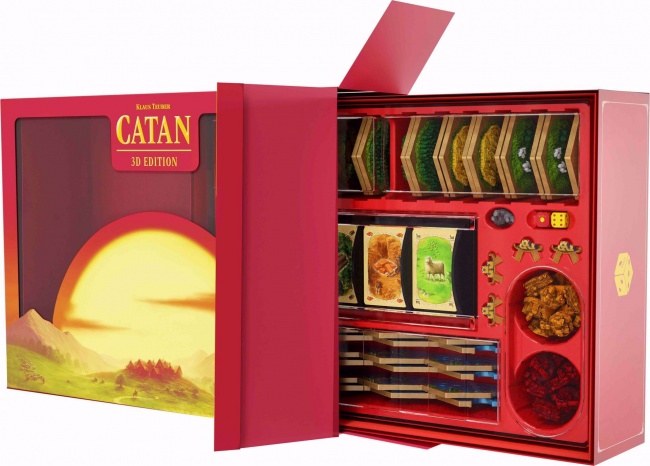 Catan Studio and Asmodee announced
Catan 3D Edition
, a new premium version of
Catan
, for release in August.
Catan is getting a high-end makeover, the likes of which hasn't seen since the release of the 10th Anniversary Settlers of Catan 3D Special Edition Treasure Chest Set (see 'Mayfair Plans Settlers 3-D Special Edition'). A new high-end edition release has been long overdue, as the fan base for Catan has grown significantly since the last one in 2005.
"The gaming hobby has grown by leaps and bounds since the last time we released a 3D edition more than 15 years ago," said Pete Fenlon, CEO of Catan Studio. "There is a whole new generation of players who have been eagerly awaiting this game. Using refined designs and improved technology, we're thrilled to finally be able to share it with them."
Catan 3D Edition will feature tile sculpts by the games' creator Klaus Teuber. Each of the terrain tiles will be hand-painted, and player and robber pieces will have an antique finish. It also comes with custom card sorting trays and dice.
This new premium edition will retail for $300.
Click on Gallery below for full-size images!