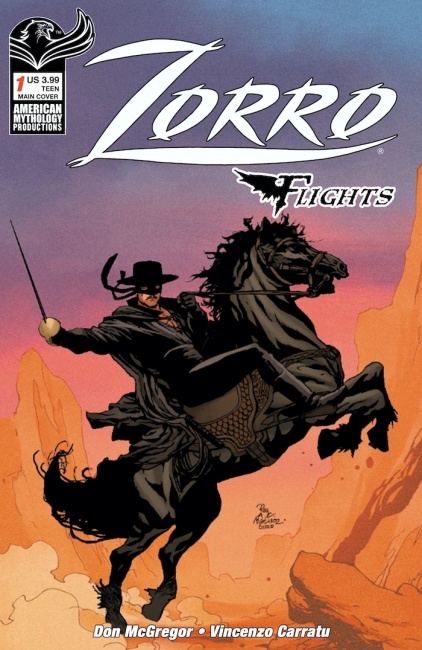 Veteran comics writer Don McGregor, who revitalized Black Panther back in the 1970s and wrote one of the first graphic novels,
Sabre,
is back with
Zorro: Flights,
a three-issue limited series from American Mythology Productions. McGregor has a long history with the Zorro character, writing it for Topps in the 90s, for daily newspaper strips, and for Papercutz in the 00s (see "
Zorro Returns to Comics
").
McGregor is teaming up with artists Vincenzo Carratu and Claudio Avella for the story, in which Zorro faces a fire-breathing dragon that may or may not be genuine; it seems to be controlled by someone behind the scenes.
Zorro: Flights #1 will be available on August 25 with an MSRP of $3.99 for the main cover by Roy Allan Martinez, $4.99 for the variant cover by Carratu, $9.99 for the limited edition photo cover, and $29.99 for the "Century Variant" black and white photo cover, which will be printed in a limited edition of 100.
Click Gallery for full-size covers!