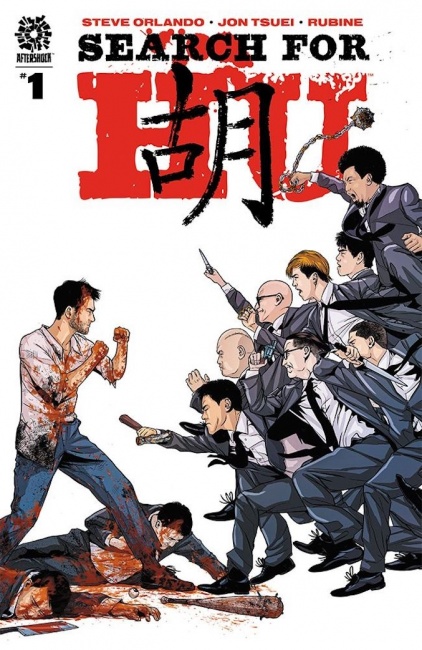 Steve Orlando and Jon Tsuei are co-writing
Search for Hu,
a new series that delves into the history of Jewish immigrants who settled in China after the Russian Revolution. The artist for the project is Rubine, who will draw the main cover, and Dave Johnson will do an incentive cover for the first issue.
Search for Hu
#1 will be published by AfterShock Comics on September 8 with an MSRP of $4.99.
The series follows Aaron Tse, a Chinese American veteran whose mother left China to avoid a blood feud between the Jewish and Chinese sides of her family, both of whom were involved with organized crime. Tse learns about this when someone attacks and critically injures his parents and destroys their bar, a sign that the peace between the two families has been broken and the feud is on again. The only way he can stop future violence is to travel to China and embark on a journey of revenge.
"What really excites me about this book aside from the high-octane action and revenge plot is the exploration of my own heritage, something that I haven't had the opportunity to do in my other comics work," Tsuei said in a press release. "It turns out that the first Russian Jewish immigrants to settle in China ended up in the North-Eastern region of China, where my family was originally from before they ended up in Taiwan. The characters in this book are a reflection of Steve's own Russian Jewish heritage and my North-Eastern Chinese background. This is a mashup I don't think we've ever seen before in Western comics and I can't wait for people to dive in."
Click Gallery for Preview