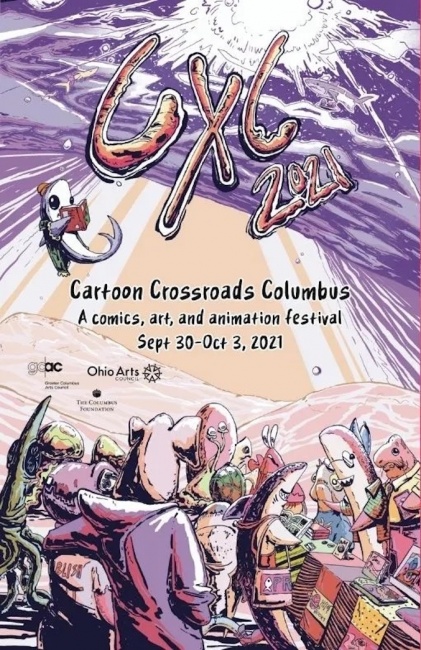 One of the high points of the 7th annual Cartoon Crossroads Columbus comics festival this fall will be the presentation of the inaugural Tom Spurgeon Award, which will go to someone who is not primarily a cartoonist but has supported the field of comics in a significant way. The award is open to retailers, distributors, journalists, editors, publishers, and others. Spurgeon, who died in 2019, was a journalist who ran the website The Comics Reporter and was CXC's founding executive director.
CXC will take place from September 30 to October 3. While some events will be in person, others will be online only, and some in-person events will be broadcast online. The CXC Expo, which allows creators to sell their work to the public, will be online this year via the CXC website and Discord Server.
The first slate of guests has also been announced:

Chris Samnee, writer and artist (Daredevil, Fire Power, Jonna and the Unpossible Monsters)
Victoria Jamieson, creator of Roller Girl and All's Faire in Middle School, co-creator of When Stars Are Scattered
Omar Mohamed, co-creator of When Stars Are Scattered
Lewis Trondheim, comics creator and co-founder of the independent publisher L'Association in France
Shary Flenniken, underground cartoonist and creator of Trots and Bonnie
The organizers will announce more guests and the final schedule of events in the months to come.