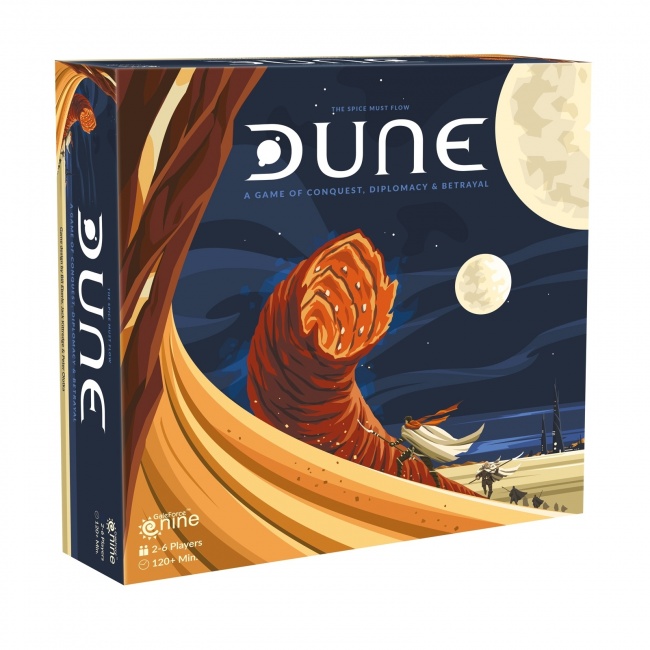 With
Dune
heading back to the silver screen and into streaming on HBO Max via WarnerMedia (see "
Warner Bros. Drops 'Dune' Trailer
"), new
Dune
games are rolling out to market in clusters through the license granted to Gale Force Nine. Some of them are tied to earlier versions and some aren't, so we're reviewing the history of these games based on the property and laying out the current landscape.
The Dune licenses have a storied past in the games industry. The literary license was granted to the Avalon Hill Game Company in 1979. They produced a now classic Dune board game designed by Bill Eberle, Jack Kitteredge, and Peter Olotka. It was essentially an area control game where players took control of a faction battled to pick up spice and build strongholds without upsetting the political balance. Territories can be challenged via a bidding system that also included treachery cards to add an additional random element.
The 1979 Dune board game spawned multiple expansions into the 80s, including Dune: The Duel and Dune: Spice Harvest. It was later updated and published again by Gale Force Nine in 2019 (see "Gale Force Nine Reveals 'Dune' Details").
In 1984, David Lynch's Dune feature hit the silver screen, and along with it, came a Dune movie license that was picked up by Parker Brothers for a board game. The Dune movie board game, designed by Brad Stock, is more of a traditional roll-dice-and-move board game that focuses around the characters of the movies arming themselves with equipment and dueling each other to the death. It is a less complex game than the Avalon Hill version, but it also has better production quality.
Both the literary and movie licenses remained dormant until Christian Moore's Last Unicorn Games picked up the literary license from the Herbert Estate in 1996. Along AEG's spin-off Five Rings Publishing Group, Last Unicorn produced Dune: Eye of the Storm (aka Dune CCG) in 1997. This game, designed by Owen Seyler and Matthew Colville, pitted players against each other as the heads of minor houses looking to enter the Landsraad. Players battle each other using House Decks, through Intrigue, Battle, Arbitration, and Dueling Rites.
Last Unicorn Games also produced a role-playing game, Dune: Chronicles of the Imperium, in 2000. This RPG saw a limited release of 3000 copies at Gen Con 33 and some overseas conventions as part of the acquisition agreement between Wizards of the Coast and Last Unicorn Games that year. After the limited release, WotC and the Herbert Estate went into renegotiation of the Dune license, and the RPG was shelved when negotiations failed.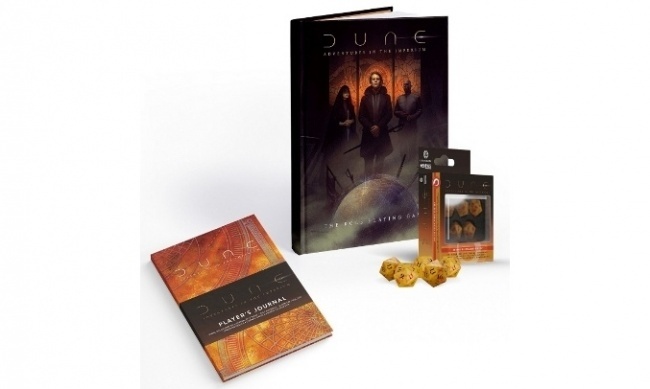 The sands of Arrakis laid relatively dormant again in the games industry until talk of Denis Villeneuve's
Dune
movie surfaced. In 2018, Gale Force Nine successfully acquired both the master literary and movie licenses (see "
Exclusive: Frank Herbert's'Dune' Comes to Tabletop
"), which they sub-licensed to a series of companies for new
Dune
games leading up the release of the movie.
Gale Force Nine first re-released the Avalon Hill game and an expansion for it (see "Gale Force Nine Unveils New 'Dune' Board Game Expansion"), then awarded sub-licenses to Dire Wolf for a deck-building board game (see "Gale Force Nine and Dire Wolf Digital Team Up for 'Dune: Imperium'"), Portal Games for a board game running on their Detective system(see "Portal Games Announces 'Dune: House Secrets' at Portal Con"), and Modiphius Entertainment for a roleplaying game (see "Modiphius Details 'Dune: Adventures in the Imperium' RPG").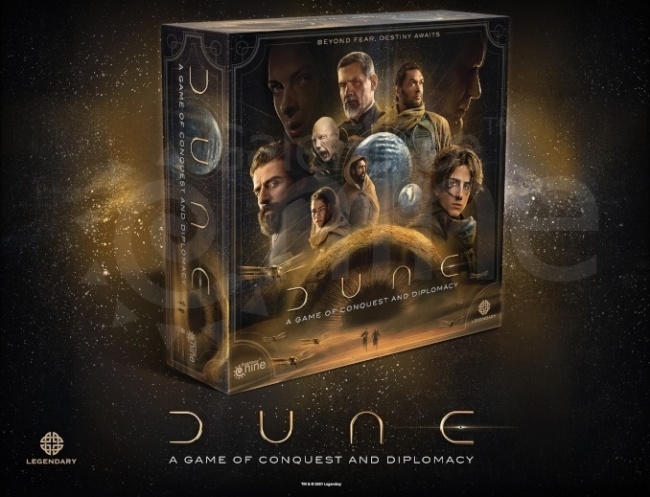 The COVID-19 pandemic pushed back the release date on the movie to Fall 2021 (see "
Best in Shows 2021
"). Gale Force Nine recently announced a board game based on the movie,
Dune: A Game of Conquest and Diplomacy
(see "
New 'Dune' Boardgame from Gale Force Nine
"), set to arrive in September.