October 21, 2021, will mark the 80th anniversary of the publication of the first Wonder Woman comic, and DC has declared it Wonder Woman Day. The publisher has lined up a slate of new books and comics, some of which had been previously announced, to mark the event, as well as a new Silver Age omnibus to debut in December. Here's a look at what they have in store:
Wonder Woman: 80 Years of the Amazon Warrior
is a collection of classic Wonder Woman stories, starting with her first appearance and including stories, some never collected before, by artists and writers including George Pérez, Phil Jimenez, William Moulton Marston, Harry G. Peter, Joye Hummel, Jill Thompson, Greg Rucka, Nicola Scott, Becky Cloonan, and Jen Bartel, as well as interviews with and essays by Gal Gadot, Lynda Carter, Patty Jenkins, and Trina Robbins. The 416-page hardcover will go on sale on September 14 with an MSRP of $29.99.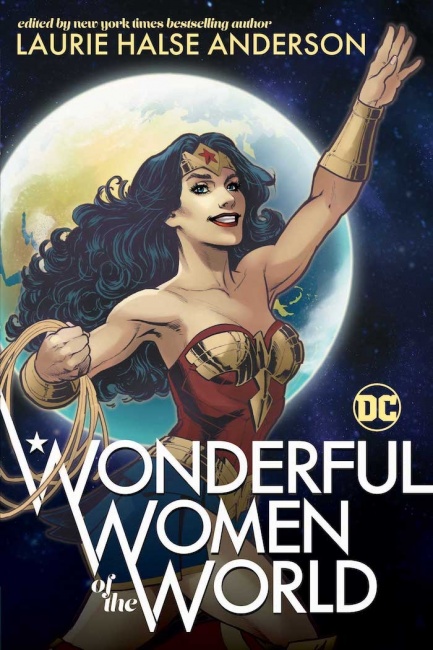 Wonderful Women of the World
is a YA anthology of short comics about 23 notable women from around the world, including Beyoncé, Serena Williams, Ruth Bader Ginsburg, Greta Thunberg, and Malala Yousafzai. The anthology was actually announced last year with a different title and cover (see "
DC Comics Celebrates the 'Wonder Women of History'
"); current plans call for it to be released on September 28 as a 200-page trade paperback with an MSRP of $16.99.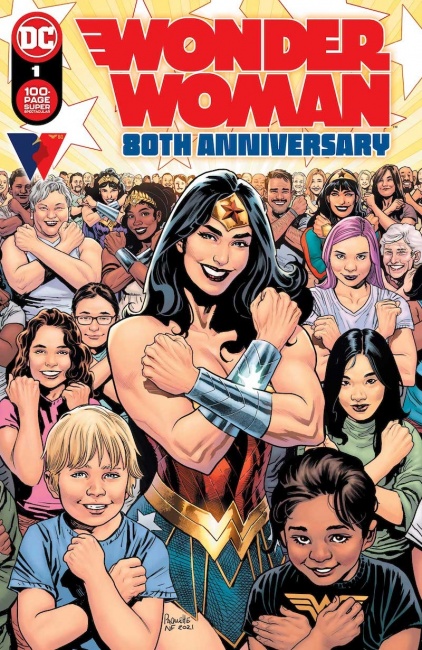 Wonder Woman 80th Anniversary 100-Page Super Spectacular
is an oversized comic with new stories celebrating Wonder Woman's history and legacy by writers Becky Cloonan, Michael W. Conrad, Jordie Bellaire, Mark Waid, Tom King, Steve Orlando, G. Willow Wilson, Amy Reeder, Vita Ayala, and Stephanie Phillips, and artists Jim Cheung, Paulina Ganucheau, Jose Luis Garcia-Lopez, Joe Prado, Amy Reeder, Evan "Doc" Shaner, Isaac Goodhart, Laura Braga, Marcio Takara, and Meghan Hetrick. The comic will be available with variant covers by Will Murai, Cat Staggs, Bruce Timm, Jen Bartel, Amy Reeder, Michael Cho, Travis Moore and Cliff Chiang, each inspired by her TV and movie incarnations as well as the Wonder Woman comics of the Golden, Silver, Bronze, and Modern ages. The special issue is scheduled for October 5.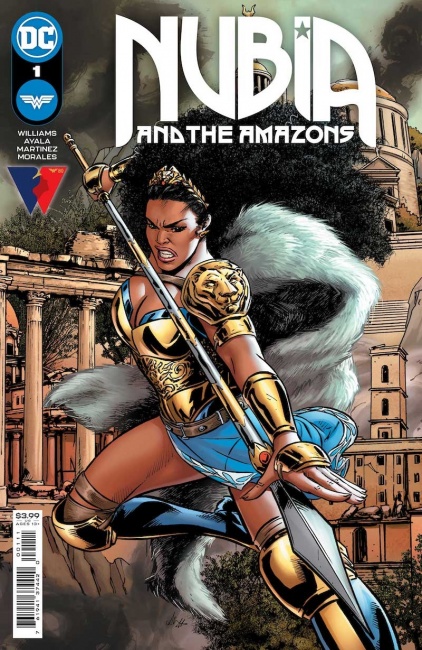 Nubia and the Amazons
is a new miniseries by writers Vita Ayala and Stephanie Williams and artist Alitha Martinez (
Future State
) set in Themiscyra, where Nubia is now the queen and has her hands full when some new Amazons show up. This forces her to consider her past and the future of Themiscyra anew, and when a new antagonist arrives on the scene, she must unite the women of the island to fight it. The first issue will be released on October 5.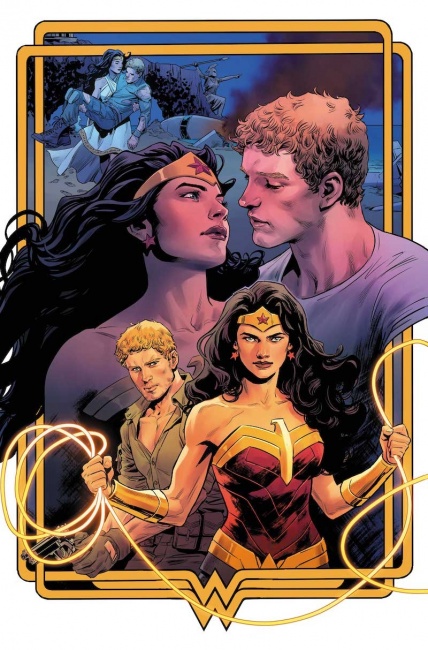 Wonder Woman
#780 launches a new story arc by writers Becky Cloonan and Michael W. Conrad and artist Travis Moore that picks up after the events of Death Metal and sets the scene for Diana's newest adventures. This issue will be released on October 12.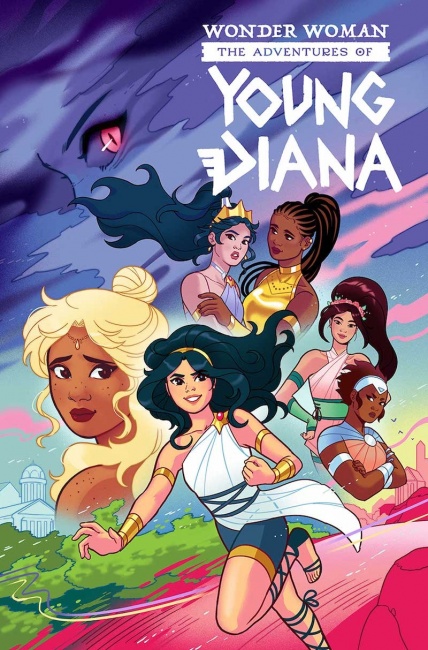 Wonder Woman: Adventures of Young Diana Special
collects, for the first time, a set of backup stories by Jordie Bellaire and Paulina Ganucheau that depict Diana as a girl, searching for a missing set of ancient texts but constrained by her identity as a royal. The release date for this special issue is October 12.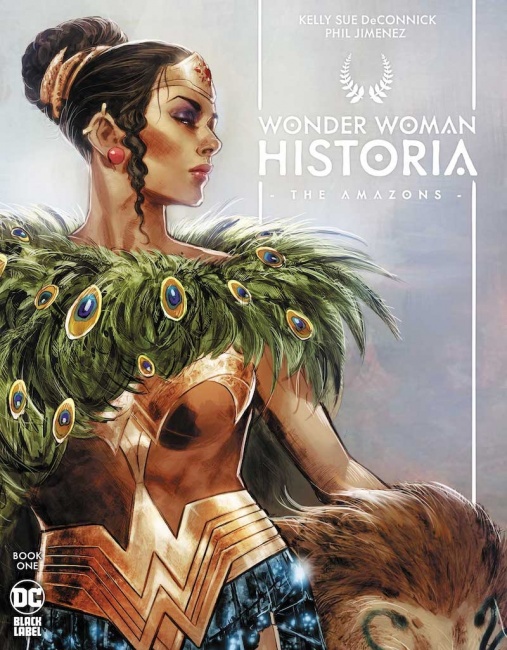 Wonder Woman Historia: The Amazons
is another new series that delves into the history of Themiscyra, depicting Hippolyta's first encounter with the Amazons and the events that led to Wonder Woman's origin story. The three-part series is written by Kelly Sue DeConnick, and the first issue features art by Phil Jimenez. Gene Ha and Nicola Scott will be the artists for the subsequent issues, which are scheduled for spring and fall 2022. The first issue will be released on October 19.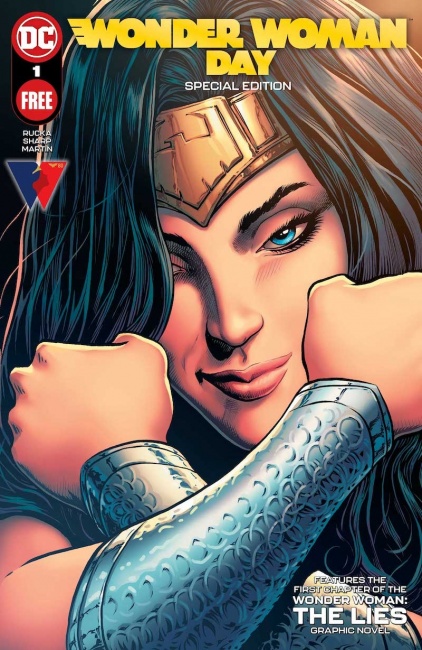 DC also plans to release three free comics on October 19:
Wonder Woman
#1, by Greg Rucka and Liam Sharp, the complete first issue of that series, which was also released as part of Wonder Woman Day in 2017 (see "
DC Celebrates Wonder Woman Day
"); an extended sample of the graphic novel
Wonder Woman: Tempest Tossed,
by writer Laurie Halse Anderson and artist Leila Del Duca (see "
Preview: 'Wonder Woman: Tempest Tossed' OGN
"); and another extended preview of
Diana: Princess of the Amazons,
the young-readers graphic novel by writers Shannon and Dean Hale and artist Victoria Ying (see "
'Diana: Princess of the Amazons' Has 200K Copies in Print
").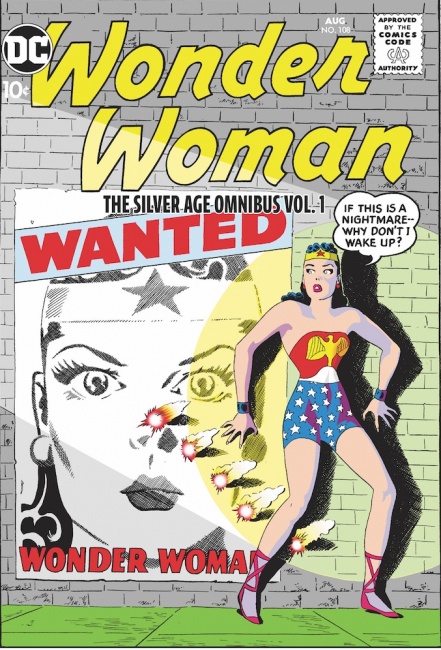 Finally,
Wonder Woman: The Silver Age Omnibus,
Vol. 1, collects stories from Wonder Woman #98-123, published in the 1950s and 1960s by writers Bob Kanigher, Julius Schwartz, Jack Schiff, and others, and artists Ross Andru, Morris Waldinger, Henry Boltinoff, and Mike Esposito, among others. The 696-page hardcover, with a cover by Ross Andru, will go on sale on December 14 with an MSRP of $99.99.
Click Gallery for covers and previews!