NBM is bringing back Joann Sfar and Lewis Trondheim's sword-and-sorcery spoof Dungeon with a new volume due out in November, and leading up to it, new omnibus editions of the older Dungeon titles that have gone out of print.
The series, originally published in France, is a parody of Dungeons & Dragons and is divided into several sub-series with different subtitles. Sfar and Trondheim have worked with several artists, including Kerascoet, Christoph Blain, and Boulet, over the course of making it. NBM originally published the series as 6 x 9 paperbacks that collected two of the original French volumes.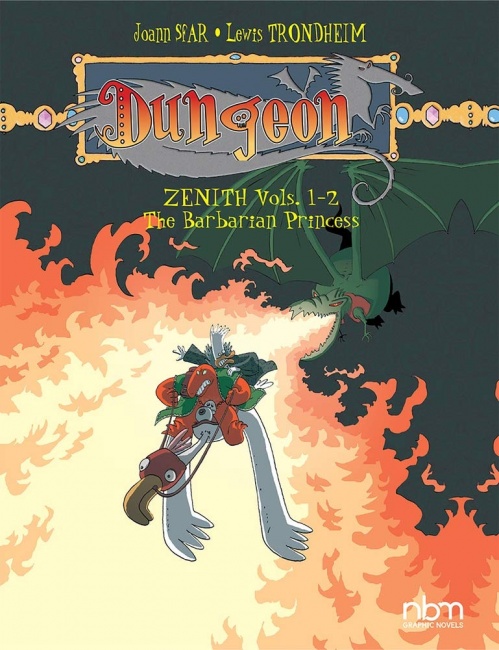 The new editions will be larger and thicker. NBM will release two omnibus volumes on September 15,
Dungeon: Zenith Vols. 1-2: The Barbarian Princess,
by Sfar and Trondheim, and
Dungeon: The Early Years Vols 1-2: The Night Shirt,
by Sfar, Blain, and Trondheim. Both will be 192-page, full-color paperbacks that collect two of NBM's earlier, out-of-print volumes (and thus four volumes of the original French comic) and have a larger trim size of 8 1/2 x 11. The MSRP for both will be $19.99.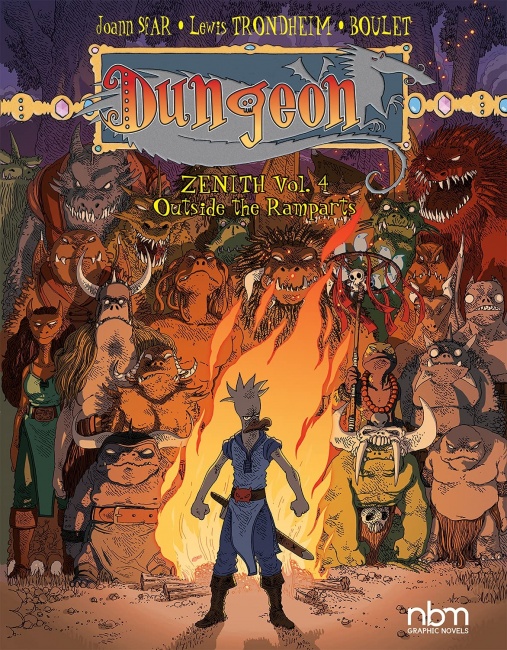 Then in November, NBM will publish a new volume,
Dungeon: Zenith, Vol 4: Outside the Ramparts.
This new volume includes volumes 7 and 8 of the original French series and will be a 96-page, full-color paperback with the larger trim size and an MSRP of $15.99.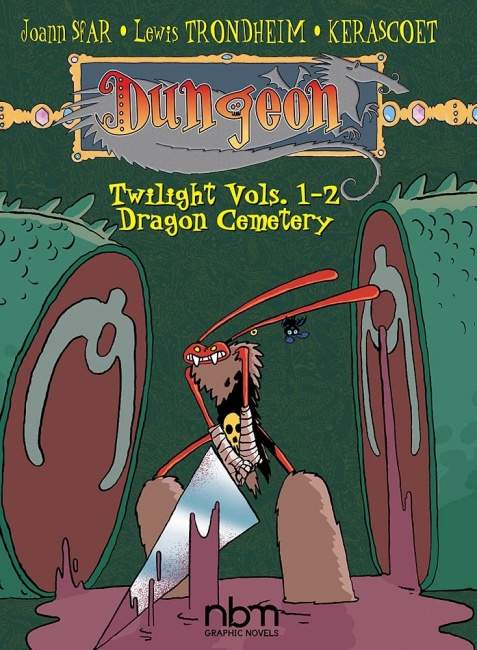 Dungeon: Twilight Vols. 1-2: Dragon Cemetery,
another four-in-one omnibus by Sfar, Trondheim, and Kerascoët, is scheduled for April 12, 2022, with an MSRP of $19.99. NBM had previously released the entire Dungeon: Twilight saga as
Dungeon: Twilight Complete Set Vols. 1-4,
in the smaller trim size, in 2016 (see "
'The Lighthouse' by Paco Roca, A Glenn Gould Biography, More
").
NBM's Free Comic Book Day comic, titled Dungeon Is Back!, will also feature the series (see "FCBD 2021 Silver Sponsor Titles").
Click Gallery for covers and preview!