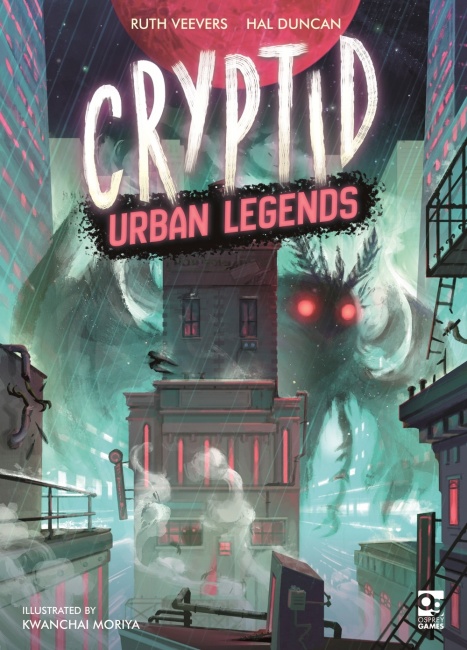 The designers behind Osprey Games' 2018 title
Cryptid
return to the hunt with the all-new head-to-head deduction game
Cryptid: Urban Legends
, releasing in April 2022.
In Cryptid: Urban Legends, one player takes on the role of a scientist trying to capture the cryptid: an unproven and possibly mythical creature that has made its home somewhere in the city. Their opponent controls the cryptid itself, trying to remain hidden and remove all evidence of its existence.
Each player has a hand of cards that they can use to manipulate the network of heat, movement, and sonic sensors in the city. The location of the network defines where and how the cryptid can hide, creating a dual puzzle for the players who must balance managing their hand of cards with optimizing the sensors.
Cryptid: Urban Legends was created by Ruth Veevers and Hal Duncan and features illustrations by Kwanchai Moriya, the same team behind 2018's Cryptid (see "Seek Unknown Creatures in 'Cryptid'" and "Review: 'Cryptid' (Board Game)"). The game comes with 41 cards, 10 plastic cubes, and 9 plastic discs. It is intended for 2 players, ages 14 and up, and takes about half an hour to play. MSRP has not been announced.
This summer, the company is releasing Imperium, a pair of fully-compatible deck building games (see "Osprey Games Will Release Two 'Imperium' Card Games").