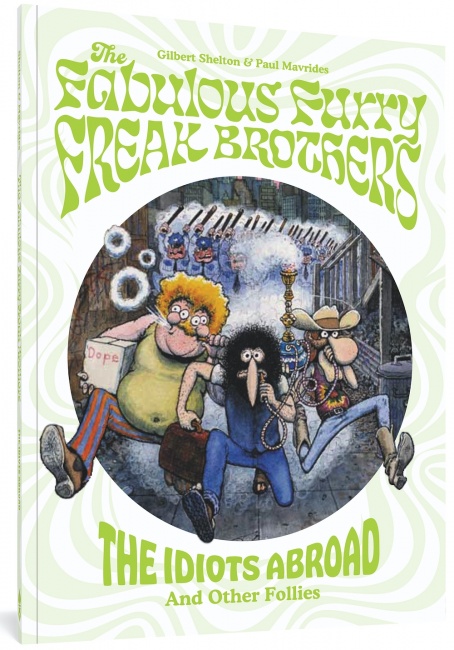 Fantagraphics has announced it will publish a complete collection of Gilbert Shelton's Fabulous Furry Freak Brothers underground comics in four volumes. The first volume,
The Fabulous Furry Freak Brothers: The Idiots Abroad and Other Follies,
includes one of the series' best known story arcs, "The Idiots Abroad," along with 70 additional pages of Freak Brothers funnies. The 160-page paperback, part of Fantagraphics' Zap Comix Series, is scheduled for January 4, 2022, with an MSRP of $19.99.
"The Idiots Abroad," which Shelton co-created with Paul Mavrides, is a three-part, novel-length story in which Freewheelin' Franklin, Phineas, and Fat Freddy set off for Colombia to score some cheap drugs but end up taking a tour of the world instead. It originally appeared in Freak Brothers #8-10, from 1984 to 1989, and The Comics Journal included the story in its list of the 100 Greatest Comics of the Century. Shelton was inducted into the Eisner Awards Hall of Fame in 2012.
Prior to the Fantagraphics announcement, the most recent collection of Freak Brothers comics was Fifty Freakin' Years Of The Fabulous Furry Freak Brothers, published by Knockabout Comics in 2018. We asked a Fantagraphics spokesperson for clarification on the overall publishing rights to the Shelton material, which have been held by Knockabout for decades, but did not receive an answer by press time.
The title trio, plus Fat Freddy's Cat, will star in an adult animated series that will debut later this year (see "'Freak Brothers Casting"), with voice acting by Woody Harrelson, Pete Davidson, John Goodman, and Tiffany Haddish.