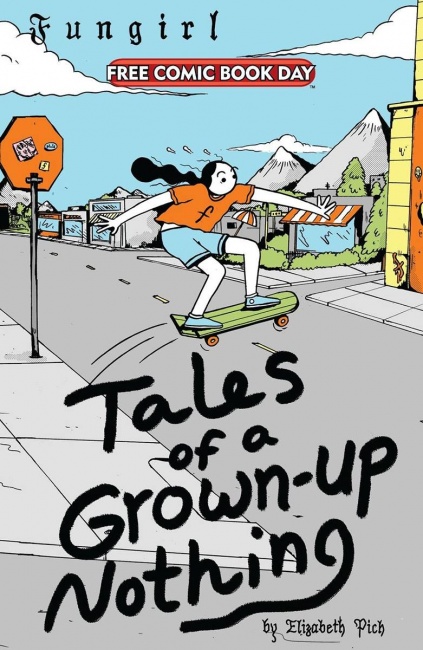 The Farmingdale Public Library on Long Island, New York, has apologized for giving a comic with adult imagery to a child on Free Comic Book Day. The comic,
Fungirl: Tales of a Grown-Up Nothing,
by Elizabeth Pich, was one of the FCBD Silver titles (see "
FCBD 2021 Silver Sponsor Titles
") and was listed as being for Mature Readers.
The comic accidentally went into a giveaway bag that was handed out to patrons on August 14 as part of the library's Free Comic Book Day event. A parent found the comic in his child's bag and alerted the library, which immediately removed the comic book, along with two others, from its giveaways, according to a report on ABC 7 News.
In an interview with ICv2, Library Director Debbie Podolski said that the library ordered the comics through a form on the FCBD website. Although she didn't personally fill out the form, Podolski said that the library requested comics for adults as well as All Ages and Teen rated titles, but that they did not select specific comics. "They sent us 300 comics two days before the event," she said. The staff put the comics into bags ahead of time. "It was a generic bag," Podolski said. "We put one of each age group in the bag." Altogether the library distributed about 30 bags. In a statement distributed to the press, Podolski said "Of that 300, we believe that 6 of this title with explicit imagery were distributed to the public. The library will not be participating in any future comic book giveaway programs through this distributor."
Diamond Director of Marketing Emily Hunter described the process at their end in an e-mail to ICv2. "Diamond is proud to support local libraries' participation in Free Comic Book Day by offering them an assortment of Free Comic Book Day comics at no charge," she said. "Each participating library orders the age-rated titles they would like to receive (All Ages, Teen, Mature) and then receives an assortment of titles based on the requested age-ratings. Mature comics are intended for adult readers, 18 years old and older. Libraries received age rating display signs that they can use in their library to aid readers in selecting age-appropriate comics. Given this mishap by the library, we are reviewing guidelines going forward."
When asked why Diamond was reviewing guidelines, Hunter responded, "We are reviewing guidelines out of an abundance of caution. Some library staff and volunteers may be less familiar with the variety of content available in comics. We want to help libraries avoid this type of incident in the future and ensure a positive experience for all participants."
Fungirl includes depictions of the main character wearing nothing but a strap-on dildo, which she uses to impale a pancake. It was already explicit enough that Coca-Cola, one of the sponsors of FCBD, withdrew its support: "We had to literally stop the presses and remove the Coca-Cola advertisement right as the book was going to print," Silver Sprocket said in its newsletter. On Twitter, the publisher apologized but said "To be clear, we were not trying to fool anyone into thinking this was a kids book. Diamond approved the comic as a 'MATURE' title and had us signify this with the red 'Free Comic Book Day' logo on the cover. It appears the color rating system was not well communicated." In a second Tweet, they said "As a small independent publisher this is our very first time participating in 'Free Comic Book Day' and we would definitely include "adults only" language on the covers of mature titles in the future." Silver Sprocket will publish Pich's Fungirl graphic novel in October; the full-color, 256-page hardcover has an MSRP of $29.99.
The library apologized, and the matter seems to have ended there. However, it is reminiscent of the 2004 case of Gordon Lee, a comics retailer in Rome, Georgia, who was charged with a felony for accidentally giving a minor a copy of Alternative Comics #2, a FCBD 2004 comic that included an image of nonsexual male nudity (see "CBLDF Takes Georgia Obscenity Case"). The Comic Book Legal Defense Fund took on Lee's case, and eventually, after the prosecutors dropped four of the original seven counts and a mistrial was declared in the first attempt to try the case (see "Mistrial Declared in Gordon Lee Case"), the Rome District Attorney, Leigh Patterson, dropped the case (see "Gordon Lee Charges Dropped").