With Netflix's live-action Cowboy Bebop scheduled to premiere on November 19, Titan Comics announced a trio of tie-ins.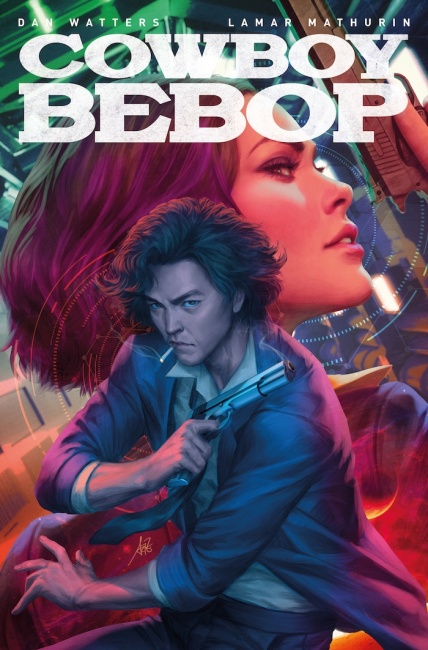 Cowboy Bebop: The Comic Series,
by writer Dan Watters (
Lucifer, Home Sick Pilots
) and artist Lamar Mathurin, is a new story, set in the year 2171, that follows the crew of the Spaceship Bebop as they hunt down yet another miscreant. The first issue will be released in December and will have several variant covers, including one by Stanley 'Artgerm' Lau. The collected edition will be released as a trade paperback in May 2022.
Cowboy Bebop: A Syndicate Story: Red Planet Requiem is a prequel novel written by Sean Cummings, who is a staff writer on the series. It explores the world of the story through younger versions of Spike Siegel and Vicious. The 320-page paperback will be released on November 23 with an MSRP of $15.95.
Cowboy Bebop: Making The Netflix Series, by Jeff Bond, is both the official companion to the show and an inside look at the production. The 176-page hardcover will go on sale on January 11, 2022, with an MSRP of $39.95.
Netflix's live-action Cowboy Bebop is a space Western that follows three bounty hunters, Spike Spiegel (John Cho), Jet Black (Mustafa Shakir), and Faye Valentine (Daniella Pineda), who travel through the solar system chasing criminals and fleeing their past. The show is based on an anime that came out in the late 1990s; Netflix announced the live-action version in 2018 (see "Live-Action 'Cowboy Bebop' Happening").