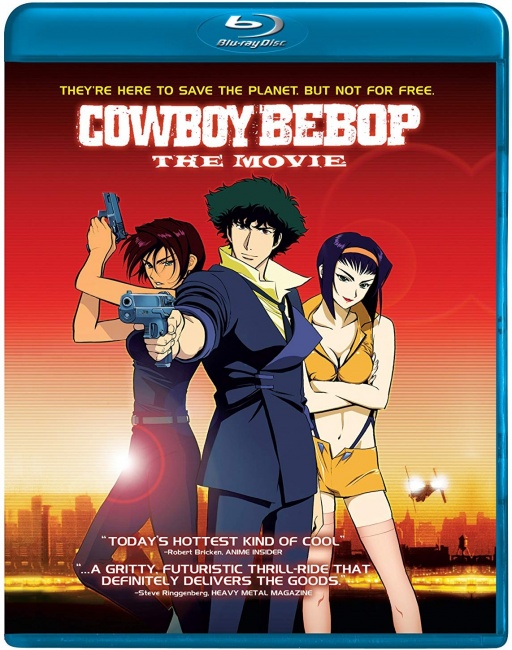 Netflix has ordered a live-action adaptation of
Cowboy Bebop
. The planned 10-episode series comes from Tomorrow Studios and Netflix and will have anime creator Shinichiro Watanabe on board as a consultant according to
Variety
. Word of the adaptation began percolating in 2017 (see "
'Cowboy Bebop,' 'Supernatural,' 'Preacher,' 'Ant-Man' Shorts
").
Christopher Yost (Thor: Ragnarok) will write the first episode. He will also executive produce alongside Andre Nemec and Josh Appelbaum (Mission Impossible: Ghost Protocol), Jeff Pinkner, Scott Rosenberg, Marty Adelstein and Becky Clements of Tomorrow Studios, Tetsu Fujimura, and Matthew Weinberg. Yasuo Miyakawa, Masayuki Ozaki, and Shin Sasaki of Sunrise Inc., the studio behind the original anime, will also executive produce. Details on casting and plot are pending.
Cowboy Bebop, which follows a ragtag crew of space-faring bounty hunters led by the cool but haunted Spike Spiegel, debuted in 1998 and ran for 26 episodes. Incorporating elements of westerns and noir as well as an inspired jazz score by Yoko Kanno, the show was the first anime to be included in the Adult Swim lineup and gained international acclaim, spawning manga, an animated feature film, and games (see "'Cowboy Bebop: Boardgame Boogie' And 'Buffy The Vampire Slayer Expansion'"). Keanu Reeves once flirted with a live-action film adaptation for the property, but it never came to fruition (see "Cowboy Bebop Film Confirmed").
Netflix is betting on projects drawing inspiration from animation and manga, with new Neon Genesis Evangelion and Ultraman series (see "Netflix Offers New Looks at Classic Anime Properties in 2019"), five new animated shows including one based on the Cagaster of an Insect Cage manga (see "Netflix Adds New Anime"), and a live-action adaptation of Avatar: The Last Airbender (see "Live-Action 'Avatar: The Last Airbender' Happening").