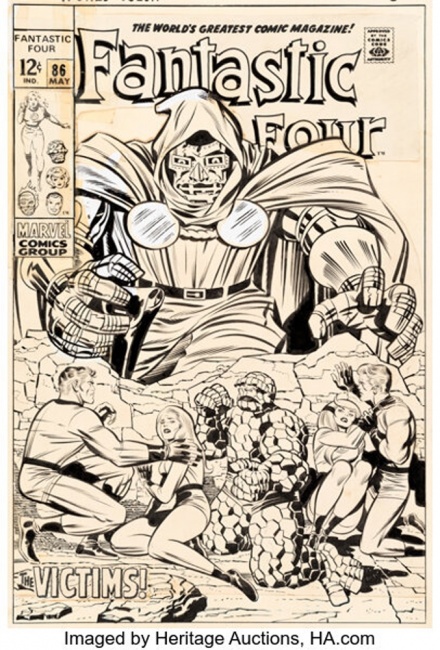 The hammer dropped on Jack "The King" Kirby and Joe Sinnott's
Fantastic Four
#86 original cover art piece at $480,000 during Heritage's Comic & Comic Art Signature Auction on September 8.
This cover prominently features an iconic, large image of Doctor Doom towering over the Fantastic Four as they take cover behind a brick wall. The piece is one of the largest Doctor Doom images that Kirby had ever created with an image area of 10" by 15". Whiteout was used in a few areas on the Doom image, and the logo elements are attached with tape.
Kirby original art pieces have been hitting six-figure numbers in recent years (see " Kirby Art Pieces Top $250K") as the original comic art market continues to heat up. Also of note in this auction, a Jim Steranko double splash original art page from Captain America #113 hit $159,600, and a Barry Winsor-Smith Avengers #100 double splash original art page hammered at $168,000. Alex Ross's DC original pieces also did well with a Batman: War on Crime original cover selling for $102,000 and his Superman: Peace on Earth original cover selling for $90,000.
Click on Gallery below for full-size images!