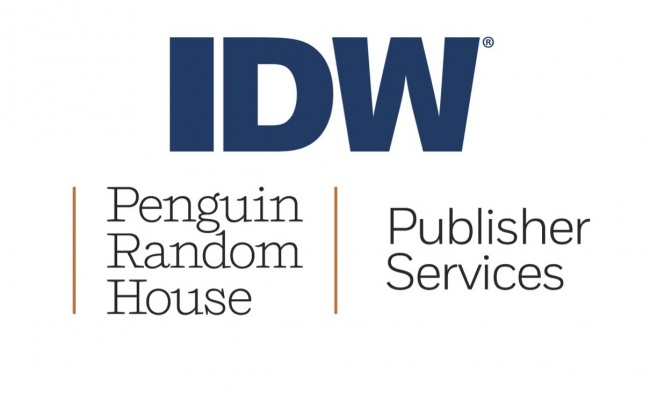 IDW Publishing announced this morning that it has signed a multi-year sales and distribution agreement with Penguin Random House Publisher Services to distribute its periodical comics as well as graphic novels, both frontlist and backlist, to the direct market. The exclusive, worldwide agreement will take effect on June 1, 2022. PRHPS has been distributing IDW's graphic novels to the book trade since 2017 (see "
IDW Moves Book Distribution to Penguin Random House
").
Retailers in the U.S. and UK have the option to continue to order comics from Diamond Comic Distributors as a wholesaler, under terms established by Diamond. This has also been the case with Marvel (see "Marvel Continues Transformation of Direct Market").
IDW is currently the fifth largest comics publisher in the direct market (see "Comic Store Publisher Market Shares – Q2 2021"), and it is the second major publisher to move periodical distribution to PRHPS.
"I would like to thank IDW for their many years of partnership and we are delighted to continue selling IDW's comics, trades and graphic novels to our retail customers as a wholesaler effective June 1, 2022," said Steve Geppi, Chairman, President, and CEO of Geppi Family Enterprises, which runs Diamond. "At Diamond, we understand the unique needs of the direct and book markets and work hard every day to service and support all the stakeholders in our industry. From developing sales tools and launching new services, to organizing industry-wide events and engaging with fans on our consumer platforms, Diamond is consistently creating and evolving new and easier ways for publishers, retailers, and fans to connect. I am proud of the role that Diamond plays and I look forward to our continued service of the direct and book markets."
Other publishers who use PRHPS for book distribution include DC, Dark Horse, and Archie. In a recent interview with ICv2, Dark Horse CEO Mike Richardson commented that PRHPS is a "big competitor" for Diamond, but that a portion of the market continues to be loyal to Diamond. "After some of the publisher losses they've experienced, if there's any kind of a movement away from them over to competitors, it puts them in a difficult position," Richardson said. When asked whether Dark Horse would move its distribution, he said, "Not now, but of course, I'll always look at what's going on. Not today, as I sit here, but we're watching." (see "ICv2 Interview: Dark Horse CEO Mike Richardson on Dark Horse's 35th Anniversary").
"IDW succeeds when the Direct Market succeeds," said IDW Publisher Nachie Marsham. "No matter how amazing our comics and graphic novels may be, it's the retailers that are connecting readers with our stories. Because of that, I couldn't be more excited about our future with Penguin Random House and I have the utmost confidence that every store, no matter the size, will see the benefits of the high levels of care and service that PRHPS brings."
As ICv2 reported in April, IDW revealed in its Securities Registration Statement that it has been operating under an expired agreement with Diamond (see "IDW, Diamond Operating Under Expired Agreement").