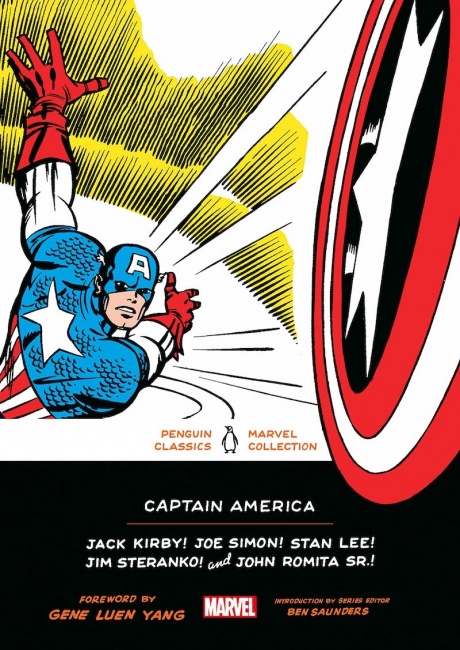 Penguin Classics will publish comics for the first time next year, when it launches the Penguin Classics Marvel Collection, a series of anthologies of Marvel comics, each focusing on a single character.
Each volume in the collection will be published in two formats, a paperback with the familiar black spine and a deluxe hardcover with gold foil stamping, gold top stain edges, and endpapers decorated with art from the comics. Every book will begin with a foreword by a young adult author and an introduction by a comics scholar that discusses the significance of each comic. The series is edited by Ben Saunders, a Professor of English at the University of Oregon and the Director of the university's Cartoon and Comics Studies minor, which he established.
The first three titles in the collection are slated for June 2022 release with an MSRP of $28.00 for the paperback and $50.00 for the hardcover. They are:
The Amazing Spider-Man, which will include 12 stories from the first two years of the comic, 1962-64, with a foreword by YA author Jason Reynolds, the 2020-21 National Ambassador for Young People's Literature, and an introduction by Saunders.
Black Panther, which will include the character's origin story from 1966 and the 1970s "Panther's Rage" storyline. The foreword will be by Nnedi Okorafor and the introduction will be by Qiana J. Whitted.
Captain America, which will collect the character's early appearances, from 1941, and several important stories from the 1960s, when Steve Rogers returns, having been frozen in the Arctic since World War II, and must adjust to a new era. The foreword is by Gene Luen Yang and the introduction is by Saunders.
In the publisher's announcement, Sven Larson, Vice President of Licensed Publishing at Marvel Entertainment said it was a "remarkable honor" to have Marvel comics included in the Penguin Classics. "From The Odyssey to The Time Machine, the Penguin Classics list not only recognizes the most important works in storytelling but also places them in their important historical and cultural context," he said. "Spider-Man, Black Panther, and Captain America have become the bedrock of countless stories across media, and it's a testament to the genius of Marvel's writers and artists that these characters resonate so strongly today."
Click Gallery for covers!