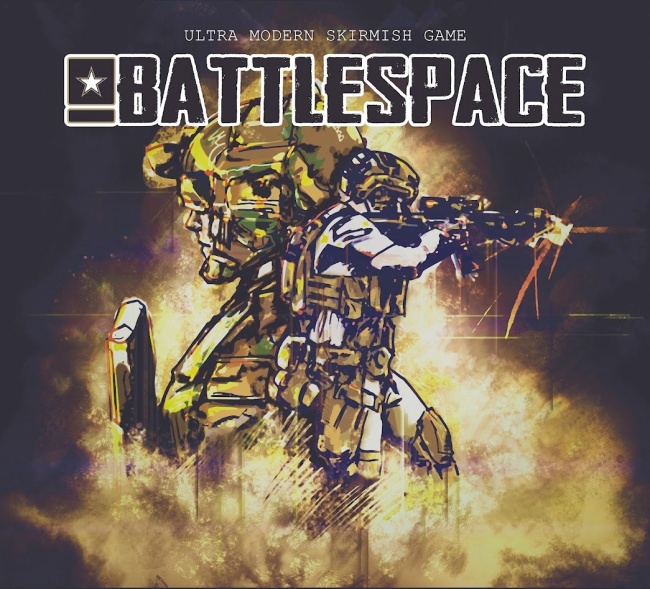 Modiphius Entertainment's VIA MODIPHIUS program will soon be offering two skirmish-scale tabletop miniatures games:
Battlespace
and
Five Leagues from the Borderlands
.
The VIA MODIPHIUS program allows independent game creators to co-publish games with Modiphius Entertainment, who then handles the game's distribution and marketing.
Battlespace will be a new, more deluxe version of Robert Salters' 2020 solo game of ultra-modern tactical combat. In this scenario-driven tabletop miniatures game, the player selects a team of soldiers and equips them to fulfill their mission objectives. Then, they compete against the game's card-driven AI, featuring special "sitrep" cards that reflect the unpredictable nature of modern warfare.
This new edition adds two more enemy factions and three new playable forces (CIA, Spetsnaz, SAS), expanded and clarified rules, revised vehicle rules that now include helicopters and boats, and rules for creating your own custom soldiers. A new mission generator rounds out the new version, designed to ease game set up.

Five Leagues from the Borderlands
will be the third edition of Ivan Sorensen's fantasy table-top miniatures wargame, which features some light RPG elements. The game allows players to create fantasy campaigns by connecting skirmish-scale battles in an evolving game world. Heroes in the game can grow in ability and experience, assuming they manage to survive their adventures.
Five Leagues from the Borderlands is designed for solo or cooperative play. Players can use any fantasy miniatures they wish for their game, with typical scenarios requiring about a dozen models. The new edition features new content including underground battles, a system for multi-part quests, new playable species, and updated and improved rules.
Modiphius and Sorensen partnered earlier this year for the designer's Five Parsecs from Home, a science-fiction version of the game.
Release dates and MSRP have not been announced.
Click Gallery below for additional images from Five Leagues from the Borderlands.
Modiphius recently announced a new sourcebook for its Dune RPG (see "New 'Dune' Sourcebook from Modiphius") as well as a new version of its Achtung! Cthulhu game (see "'Achtung! Cthulhu 2d20' Revealed") and a licensed James Bond board game (see "'No, Mr. Bond, I Expect You to Die' in 'Spectre: The Board Game'").