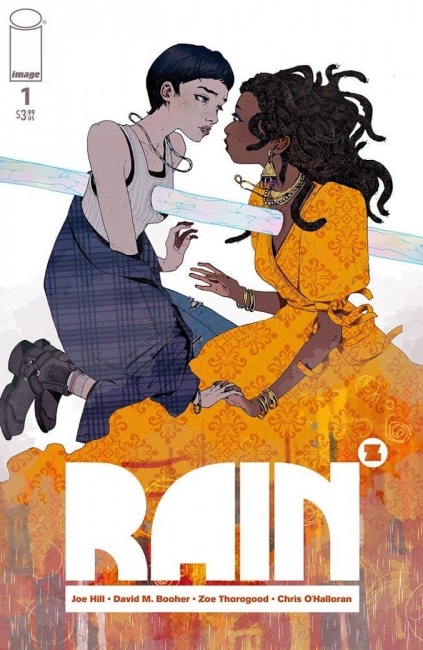 Chris Ryall, the former President, Publisher, and CCO of IDW Publishing, is teaming up with artist Ashley Wood to form Syzygy Publishing, a new imprint of Image Comics that will publish comics, graphic novels, and art books beginning in January 2022. Ryall mentioned the new venture when he left IDW last year (see "
President, Publisher, and CCO Chris Ryall Leaving IDW Publishing
"), saying that he would continue to work with the creators he had worked with at IDW and focus on the worlds and characters created there.
The first Syzygy title will be a five-part miniseries adapting Joe Hill's novella Rain, which was part of Hill's prose collection Strange Weather. The creative team will include writer David M. Booher (Killer Queens), artist Zoe Thorogood (The Impending Blindness of Billie Scott), colorist Chris O'Halloran (Ha Ha), and letterer Shawn Lee (Madman Artist's Select). Ryall will edit the comic, while Wood will handle the logo and production design.
Rain tells the story of two women trying to survive a plague of sharp crystals that fall from the sky, shredding the skin of anyone who is exposed to them. The first issue will be published on January 12, 2022, with an MSRP of $3.99 for the 32-page comic. The main cover, by Thorogood, is inspired by the Austrian painter Gustav Klimt, as is the 1:25 incentive cover by Wood. Additional covers include a variant by Elizabeth Beals, a 1:50 variant by Renae De Liz, and a sketch variant by Thorogood.
Ryall and Wood are the co-creators of the Zombies vs. Robots series (see "Zombies 'Bury,' Robots").
Hill has also had a deal at DC where he curated pop-up imprint Hill House (see "DC Black Label Launching New Horror Imprint with Joe Hill").
Click Gallery for covers and preview!