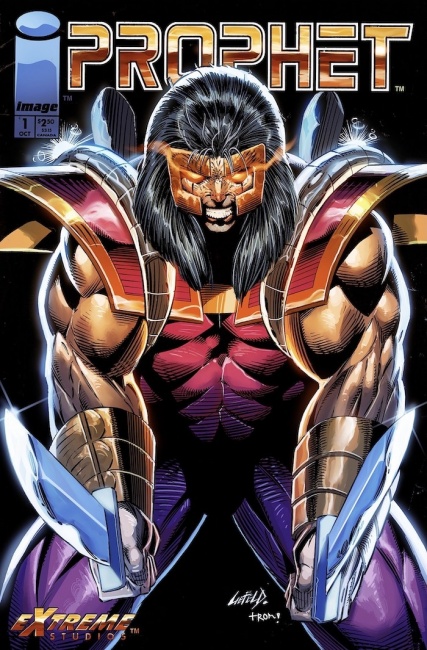 To celebrate the 30th anniversary of the introduction of his character John Prophet, Rob Liefeld and Image Comics plan to publish a facsimile edition of
Prophet
#1 in February 2022, followed in March by a new version of the original in which different artists will recreate individual pages, each working in their own style. In addition to Liefeld and the original
Prophet
artist, Dan Panosian, the lineup for the special issue will include Philip Tan, Ed Piskor, Dan Fraga, Marat Mychaels, Jim Rugg, Tom Scioli, and Karl Altstaetter, along with others yet to be announced. ICv2 inquired as to the prices and formats of these two comics and was told Image will release that information closer to the publication date.
John Prophet first appeared as a character in Liefeld's Youngblood #2, with a cover date of July 1992. Prophet #1, written and laid out by Liefeld and drawn by Panosian, was published in January 1993 and ran for 11 issues, with a story that directly followed from the storyline in Youngblood. Since then the character has been revived several times, including a 1995 series written by Chuck Dixon and a 2012 series written and partially drawn by Brandon Graham. The character has also appeared in crossovers with Marvel's Cable and Valiant's Harbinger and Shadowman.
Studio 8 is developing a Prophet movie starring Jake Gylenhaal (see "Gylenhall Stars in 'Prophet'").
Click Gallery for more artwork!