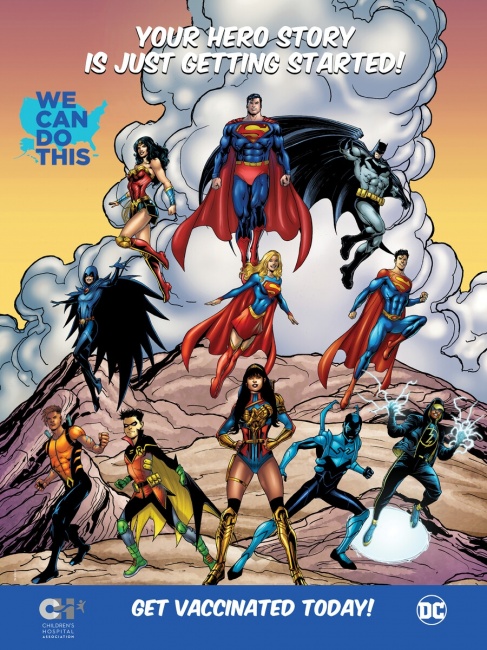 WarnerMedia and DC Comics are collaborating with the Children's Hospital Association and the Biden-Harris administration to bring superheroes to hospital clinics where children are getting their COVID-19 shots.
DC is providing a variety of superhero-themed items to children's hospital clinics offering COVID-19 vaccinations to children ages 5 to 12 in November and December. Children who get their vaccines in those clinics will see superhero posters on the walls, get a superhero bandage after their shot, and go home with a Bendon coloring book.
To kick off the campaign, Wonder Woman and Superman joined Dr. Jill Biden, the First Lady, on a tour of Texas Children's Hospital on November 14 to support the children getting vaccinations there.
WarnerMedia has also worked with the federal government on public education campaigns encouraging masks and vaccines for adults.
This is the latest of several geek-themed contributions to public health campaigns. Marvel created a special Avengers comic to be distributed at COVID-19 vaccination clinics in New York City last summer (see "Avengers Comic Encourages New Yorkers to Get COVID-19 Vaccination"), and Konami is offering rare Yu-Gi-Oh cards as prizes in a sweepstakes to raise money for the CDC foundation, which supports vaccination programs (see "Konami Offers Rare 'Yu-Gi-Oh!' TCG Cards as Prizes").