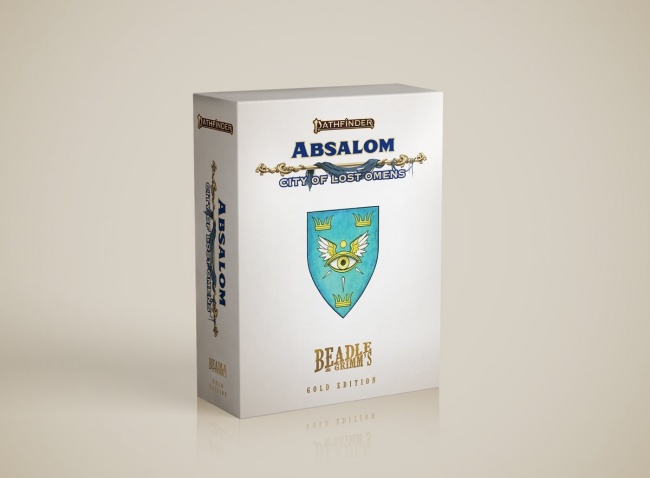 Paizo, Inc. and Beadle & Grimm's revealed
Absalom: City of Lost Omens Gold Edition
, a premium boxed set for
Pathfinder RPG
, which started its preorder on November 26 off B&G's website.
This B&G's boxed set, produced under Paizo's Pathfinder license, comes with everything a GM would need to guide their players through the city of Absalom. The set features Paizo's complete Absalom: City of Lost Omens included in smaller booklets that allow the GM to organize game sessions. It also comes with an Absalom GM Screen, NPC cards, location cards, and bonus adventures.
Absalom: City of Lost Omens Gold Edition also has several maps: a map of the city, six 24" by 30" battle maps, a map of the Starstone Isle, and a map folder with thirteen 8.5" by 11" district maps. Additionally, the boxed set has nuance items to make game sessions more immersive such as in-world handouts, faction jewelry, coins, and coasters.
This boxed set will retail for $349.00.
Paizo also announced Pathfinder Goblin Firework Fight for release in December(see "'Pathfinder Goblin Firework Fight'").