The second edition of Cranio Creations'
Lorenzo il Magnifico
will be released into the North American market by Asmodee on December 10.
Launched at the Spiel fair in Germany in 2016 to critical acclaim, Lorenzo il Magnifico is a game of politics, economics, and intrigue set in the Italian Renaissance period (see "CMON Expands Partnership with Cranio Creations"). As the head of a noble family, each player tries to gather as much prestige and fame as they can by deploying their family members to gather resources, develop newly conquered territories, influence powerful characters, and launch economic ventures. Each round, the abilities of the player's family members are determined by a dice roll, giving them variable effects during each of the game's six rounds of play.
In addition to pursuing their family's objectives, players must show proper respect to the Church. Those who do not pray ardently enough are hit with severe penalties at the end of each two-round period of play.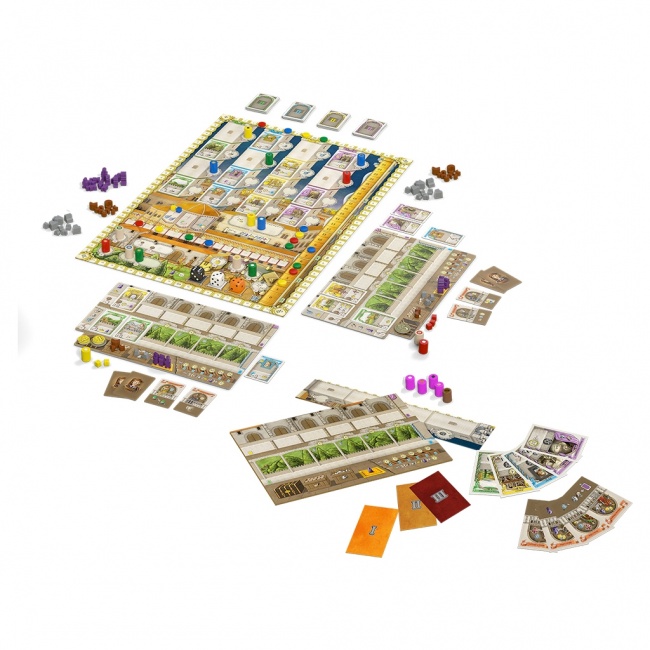 The new edition was created by
Lorenzo il Magnifico
's original team of Virginio Gigli, Flaminia Brasini, and Simone Lucioni. Along with the core game, this boxed set features the
Famiglie del Rinascimento
and
La Congiura dei Pazzi
expansions, and includes rules in five languages. The game is intended for 2 to 5 players, ages 12 and up. MSRP is $99.99.
This year, Asmodee has partnered with Cranio Creations on a number of titles, including a new edition of Maharaja (see "Asmodee USA Will Release a New Edition of 'Maharaja' into U.S. Trade"), Reiner Knizia's Meow (see "Cats Battle for the Best Bowls of Food in 'Meow'"), and the story-telling game Mekhane (see "Tell Tales of Life and Death in 'Mekhane'").