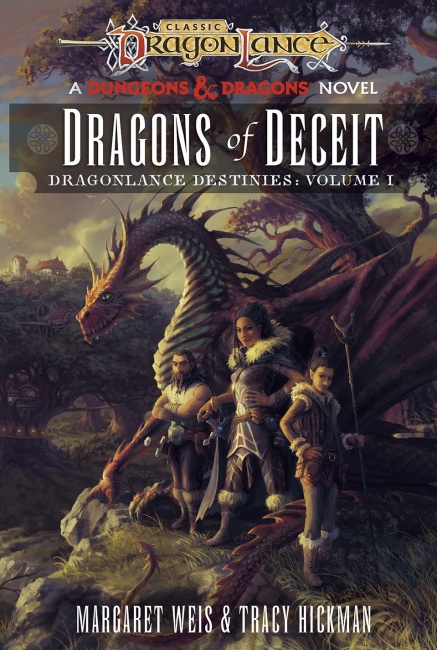 Del Rey announced that the first book in a new
Classic Dragonlance
novel trilogy,
Dragons of Deceit
, will hit retail stores on August 9, 2022.
Margaret Weis and Tracy Hickman are back to publishing books after settling their legal tussle with Wizards of the Coast over allegedly terminating their agreement to produce new Dragonlance books without cause (see "Margaret Weis and Tracy Hickman Sue Wizards of the Coast Over Cancelled 'Dragonlance' Books"). Dragons of Deceit will be the first book in their new Classic Dragonlance trilogy, which was announced back in January 2021 (see "'Classic Dragonlance' Series"). This book features a heroine named Destina Rosethorn who is looking to resurrect her father, who died during the War of the Lance.
After the death of her father, the legacy of her family crumbled and Destina lost the family lands and castle as well. To save her father's legacy, she forms a plan to go back in time and prevent his death. Destina then embarks on a quest to obtain an artifact known as the Device of Time Journeying, and use it to divert the course of River of Time in an effort to alter the past and change the future.
This book will come as a hardcover and retail for $28.99.