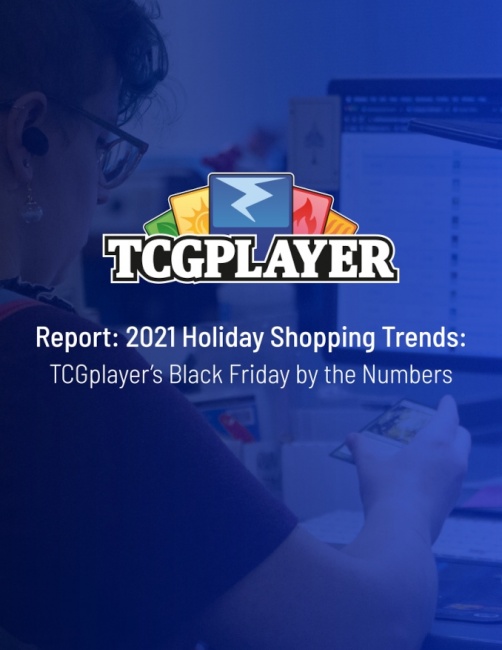 TCGplayer has released a Holiday Shopping Trends report, revealing which TCGs sold best and grew fastest on its platform on Black Friday, along with other information about customer behavior and the company's overall sales.
The chart of the top-selling TCGs on the TCGplayer platform, as measured by Gross Merchandise Value, provides a snapshot of relative demand from collectors. The Big Three TCGs remain the Big Three, with
Flesh and Blood
and
Digimon
making strong showings in the #4 and #5 positions.
Top-Selling TCGs on TCGplayer - Black Friday 2021
Magic: The Gathering
Yu-Gi-Oh! TCG
Pokemon
Flesh and Blood TCG
Digimon Card Game
Weiss Schwarz
Cardfight!! Vanguard
Dragon Ball Super Card Game
MetaZoo
Final Fantasy TCG
Overall sales on the platform were up over 300%, the report said. Pokemon was the fastest-growing of the Big Three, with 320% higher sales than on Black Friday 2020; Yu-Gi-Oh! grew 230%, and Magic was the slowest growing of the three, with a 100% growth rate. Flesh and Blood and Digimon both had much higher growth rates (3700% and 2400%, respectively), but both were relatively new to the TCGplayer platform as of Black Friday 2020.

Purchasing patterns on the platform demonstrated collectors' brand loyalty (and the barriers to investing time and money into more than one TCG at a time), with only 8% of TCGplayer customers buying cards from more than one line. Fans of the Big Three were even more focused on their core interests: only 1% of purchasers buying one of the Big Three lines also made a purchase from a second line, the report revealed.

TCGplayer also revealed some of its own sales info: over the full weekend, more than $10 million in Gross Merchandise Value was sold on the platform. Sellers for whom TCGplayer provides logistics services through its Direct Sellers program grew fastest, leading to a record 500,000 cards being shipped by TCGplayer as a result of Black Friday sales.