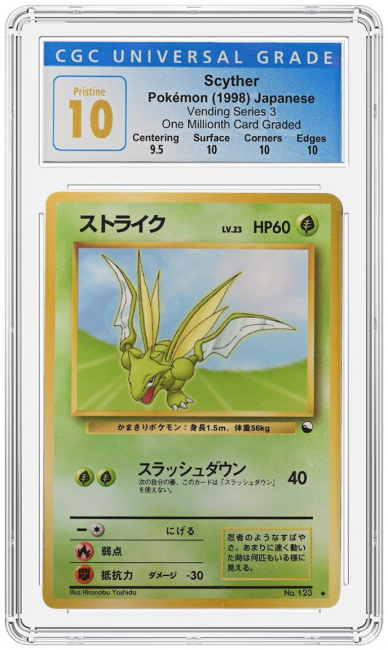 CGC Trading Cards announced that they have hit one million cards graded in less than 18 months.
Their one-millionth card graded was a Pokemon TCG Japanese (1998) Scyther card that clocked in at a Pristine 10 and was marked with a special "One Millionth Card Graded" label. CGC Trading Cards has been expanding its service rapidly over the last year (see "Grading Services Expansion"). Hitting this grading volume milestone within an 18-month timeframe only reiterates the high demand for TCG grading services over the course of 2021 into 2022.
This CGC Trading Cards million-card effort was potentially propelled forward faster by PSA announcing that it was suspending submissions until July 1, 2021 (see "COVID Creates Card Grading Crisis"). With PSA effectively backlogged, other grading companies likely profited from their demand overflow. Cards with Beckett and CGC labels have a comparable reputation to PSA-labeled graded cards in the TCG collector community.
Click on Gallery below for full-size images!