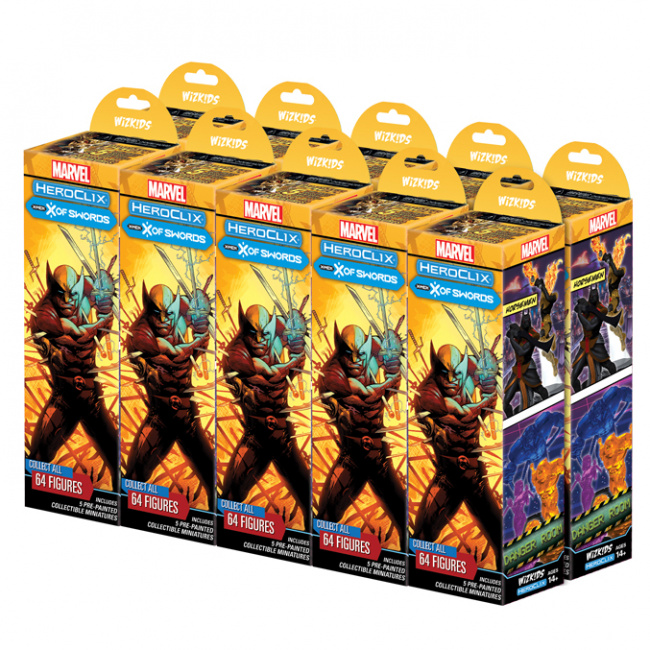 WizKids will release a
Marvel HeroClix: X-Men X of Swords
set in June 2022.
The new Clix set features the cataclysmic showdoen for all of mutantkind that played out in the comics (see "'X of Swords'"). Boosters will feature X-Men characters like Cable, Storm, and Magneto as well as Cypher, Wolverine, and Gorgon wielding epic weapons. Mission points also make their return as set mechanic. The set contains 16 Common figures, 14 Uncommon figures, 14 Rare figures (and 2 Primes), 12 Super Rare figures (and 2 Primes), 8 Chase figures, 11 Objects, and 30+ Tarot cards. X of Swords Booster Bricks will retail for $169.99.
The X of Swords set will also feature a new boxed set, X of Swords Miniatures Game. This game comes with a multi-session campaign for two players that changes based on the results of played through sessions. The box includes 10 pre-painted miniatures, the campaign, 20 Character cards, 6 Object tokens, 6 double-sided map tiles, 5 Tarot cards, 2 custom six-sided dice, 2 full color Power and Abilities cards, and a full-color HeroClix Core Rulebook (2022 edition). It will retail for $69.99.
There will also be an X of Swords Play at Home Kit available for players to celebrate the release of the set in safety of their home. It comes with a Pyro Limited Edition Figure and a double-sided map for $19.99.
This set will see a new Dice and Tokens Pack. The Dice and Tokens Pack comes with 2 custom dice with a special logo and 6 tokens. It retails for $14.99.
Click on Gallery below for full-size images!