Modiphius Entertainment will be releasing the new
Conan – The Exiles Sourcebook
and
The Art of Conan
book into the U.S. later this week.
Conan – The Exiles Sourcebook focuses on the Exiled Lands and the types of characters common to that region. This 112-page book features four new character archetypes as well as new backgrounds, talents, equipment, and weapon qualities for new character creation options. It continues with details about the Exiled Lands, including the Shattered Springs, City of Relic Hunters, Circle of Swords, Black Gardens, and the Unnamed City sites, along with rules for surviving in the wastelands, guidelines for crafting weapons and other equipment, and new monsters, foes, and Exiled Gods for players to contend with. MSPR is $34.99.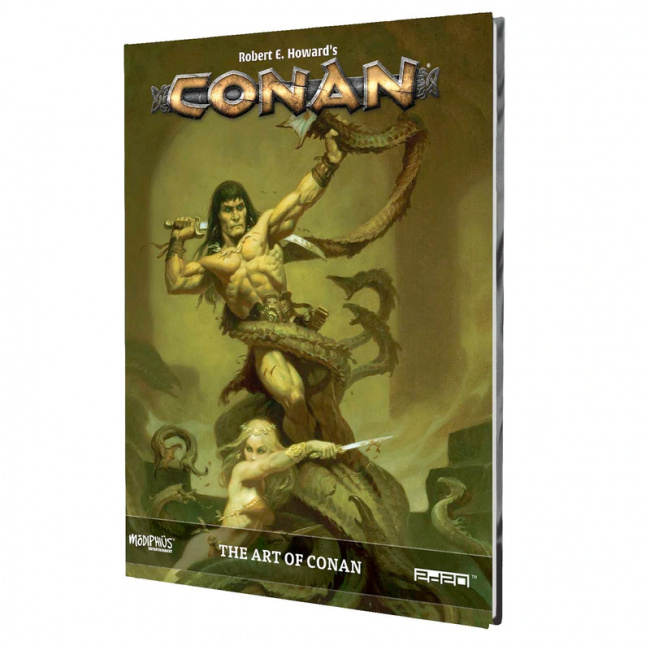 Drawing from the core rulebook and its supporting sourcebooks and supplements,
The Art of Conan
offers a selection of artwork depicting the world of Conan and its inhabitants. The book features both cover art and interior art from the books in the line, organized by title, including a number of two-page spreads, landscapes and location images, action scenes, and monstrous creatures. This book does not include any game rules or content. MSRP is $34.99.
Click Gallery below to see sample pages and artwork from both books.
The new books follow last year's Conan the Wanderer and Conan the King sourcebooks (see "Conan Journeys East in 'The Wanderer'" and "'Conan the King' Arrives to Claim the Throne"). Earlier this month, the company offered a new book for Star Trek Adventures (see "Modiphius Explores 'Star Trek's' Shackleton Expanse").
Modiphius recently launched a new wholesale webstore to support North American retailers (see "Modiphius Opens Wholesale Webstore").