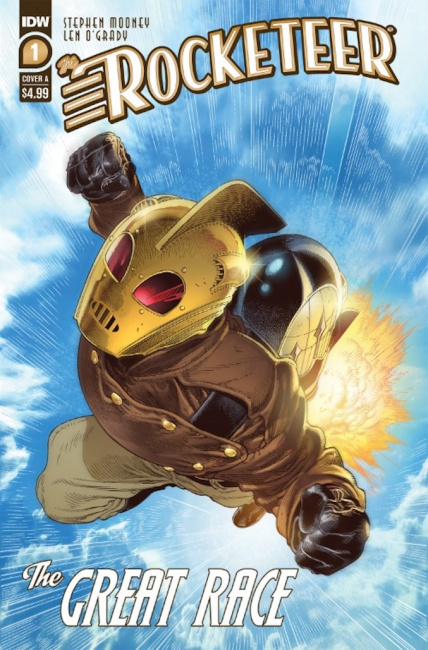 IDW Publishing is launching a new miniseries featuring the Rocketeer, the character created by the late Dave Stevens.
The Rocketeer: The Great Race,
by writer/artist Stephen Mooney, will launch in April. The miniseries is set in the same time period as the original, the late 1930s; with war on the horizon, stunt pilot Cliff Secord decides to play it (relatively) safe and give up his Rocketeer exploits, opting instead to join a high-stakes air race from California to France. Nothing is that simple, though, and some of the competitors in the race have designs of their own that create new perils for Cliff.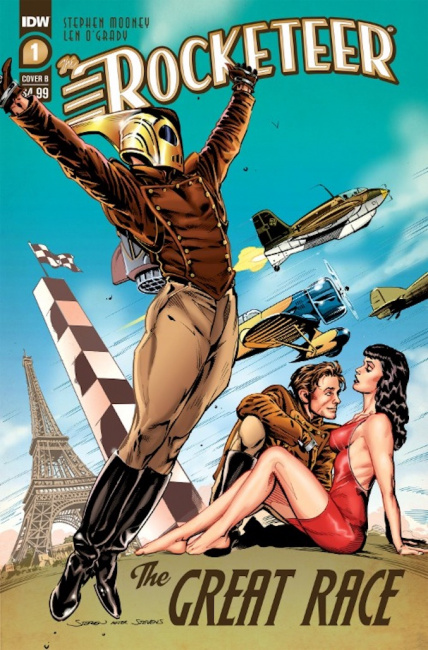 Each issue of the miniseries will also include a section of reminiscences of Stevens by his family and friends, collected by Kelvin Mao, producer of the upcoming documentary
Dave Stevens: Drawn to Perfection.
The first issue will be released in April with Cover A by Gabriel Rodriguez (Locke & Key) and Cover B by Mooney himself, as well as blank sketch cover and a retailer incentive cover with virgin artwork by Rodriguez.
The Rocketeer originally appeared as a backup story in Mike Grell's Starslayer #2 in 1982 and moved through several publishers before Stevens' death in 1982. IDW published a collection of the entire series in 2009 and an Artists' Edition in 2010; a new printing of that book is in the works for April as well (see "IDW to Bring Back Artists' Edition of Dave Stevens' 'The Rocketeer'").