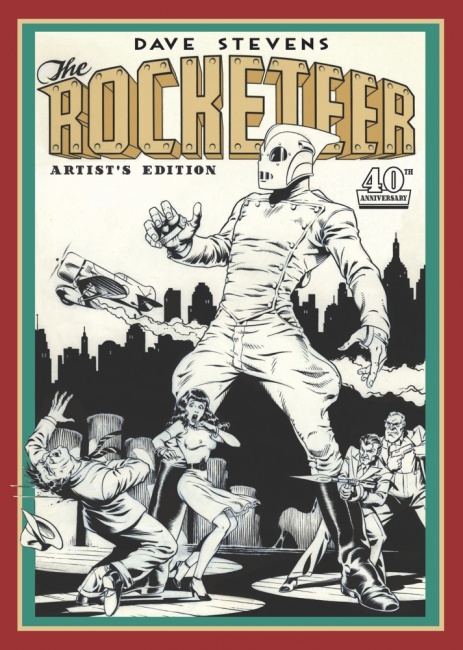 IDW Publishing is marking the 40th anniversary of Dave Stevens'
The Rocketeer
with a new printing of their Artist's Edition of the series, which was their first Artist's Edition back in 2010 (see "
'The Rocketeer: Artist's Edition'
"). The book won two Eisner Awards in 2011, for Best Archival Collection/Project – Comic Books and Best Publication Design. The artwork in the oversized 12" x 17" hardcover has been scanned from the original art, allowing readers to see not just the drawings but the edits and notations. The 136-page, black and white
Dave Stevens' The Rocketeer – Artist's Edition
will be released in April 2022 with an MSRP of $150.00.
Interest in the Rocketeer franchise seems to be on the upswing: Funko Games will launch a Rocketeer board game in the fall (see "
Funko Announces New 'The Rocketeer' Board Game
"), and a new movie is in the works from Disney+. The new Rocketeer will be a Black man who was formerly one of the Tuskegee Airmen; the movie will be produced by David and Jessica Oyelowo and written by Selma actor Ed Ricourt, who may have a part in the film, according to reporting in
Deadline
.
Stevens, who died in 2008, created
The Rocketeer
in 1982 as a backup feature in Mike Grell's
Starslayer,
published by Pacific Comics. Later installments were published by Eclipse Comics, Comico, and Dark Horse Comics. In 2009, IDW Publishing announced it would collect the entire series in two editions, a regular hardcover and a deluxe special edition (see "
IDW to Collect 'Rocketeer'
"), and the following year, it launched a series of new Rocketeer comics by a variety of creators (see "
IDW Revives 'Rocketeer'
"). Stevens was inducted into the Eisner Awards Hall of Fame in 2019 (see "
Four Picked for Eisner Hall of Fame
").