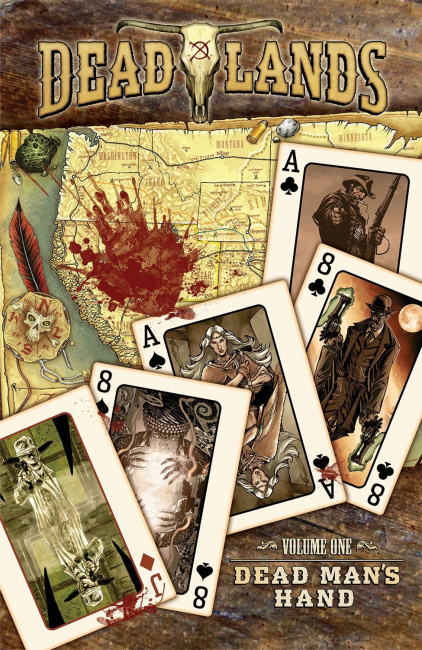 The independent publisher Outland Entertainment has signed a comprehensive licensing deal with the RPG publisher Pinnacle Entertainment Group to produce graphic novels and prose fiction based on Pinnacle's original gaming properties. Outland has created a new imprint, Outrider, for titles based on the Pinnacle properties.
The first Outrider project will be hardcover reissues of the
Deadlands
graphic novels, which are set in the world of the Pinnacle game, an alternate version of the 19th-century United States with magic and horror aspects. The publisher will launch a Kickstarter campaign on April 5 to fund the first title,
Dead Man's Hand.
The Deadlands graphic novels were originally produced in 2011 by Visionary Comics and published by Image Comics (see "
Image Bringing 'Deadlands' RPG to Comics
"). In 2015 they were collected into graphic novels that were published by IDW (see "
'Deadlands' Licensing Expansion
"). In 2021, Visionary formed a partnership with Outland, and Visionary CCO C. Edward Sellner became Outland's Licensing Director.
Deadlands
is the first property he has brought to Outland.
In 2021, Outland partnered with Comics Experience Publishing to create a shared comics universe based on Barry Blair's Aircel comics and spearheaded by writer Cullen Bunn (see "
Outland to Bring Cullen Bunn's Shared Universe to Comic Shops
").