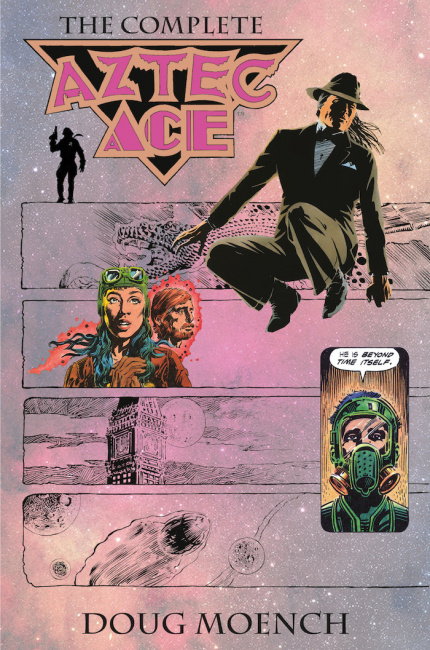 In a collaboration with small publisher It's Alive!, Dark Horse will publish
The Complete Aztec Ace,
an archival hardcover collection of all 15 issues of Doug Moench's time-travel saga, plus a bonus story by Moench and Tim Sale and a gallery of pinups by artists Bill Sienkiewicz, ChrisCross, Dan Day, Jeff Lemire, Joe Staton, Jock, Kelley Jones, Matt Kindt, Michael Avon Oeming, Michael Kaluta, Paul Gulacy, Paul Pope, and Ron Harris. The book will be released to comic shops on July 20 and to the book channel on August 2 and will have an MSRP of $79.99.
The collected edition was originally crowdfunded on Kickstarter (see "Cult Favorite 'Aztec Ace' Collected for First Time"), and the campaign raised $35,000. At that time, It's Alive was an imprint of IDW (see "New Imprint 'It's Alive!' at IDW"), but the two companies have since parted ways. In addition, the project was plagued by a number of delays, which It's Alive Publisher Drew Ford detailed on the Kickstarter's updates page. In November 2020, he wrote that "I have entered into a new co-publishing and distribution deal, which will allow me to finally get the AZTEC ACE book in print, and sent to all of you" (most of the updates are available to backers only, but this one was public).
Aztec Ace was originally published as single issues by Eclipse Comics in 1984-85. Artists who worked on the series include Mike Gustovich and Tom Yeates, inkers Nestor Redondo and Ron Harris, colorists Philip DeWalt, Steve Oliffe, and Sam Parsons, and letterer Carrie Spiegle.