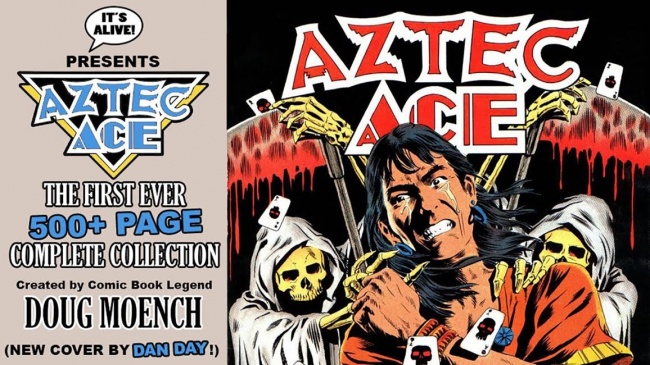 IDW Publishing's It's Alive! imprint is resurrecting an '80s cult classic: Doug Moench's Aztec Ace.
Aztec Ace: The Complete Collection
is the first ever compilation of the seminal 15-issue work from Moench.
It's Alive's Drew Ford has turned to Kickstarter to support the project. The campaign, which has already met its fundraising goal of $20,000 with just over three weeks to go, includes two retailer levels. The campaign has added stretch goals that include galleries, a new story, and more. Clocking in at 500+ pages, the Aztec Ace: The Complete Collection hardcover will be delivered to backers in January 2019, with a trade release to follow.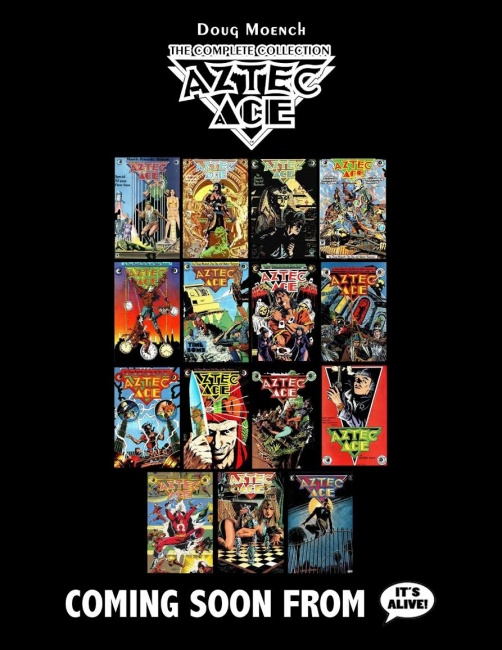 Aztec Ace, which was written by Moench, edited by Cat Yronwode, and illustrated by several artists, including Dan Day, Michael Hernandez, Ron Harris, and Thomas Yeates, was released by Eclipse Comics starting in 1984. Ace, a 23rd century time traveller whose base is in the Aztec empire of pre-Columbian Mexico, travels the world and time to fight his paradox-causing enemy Nine-Crocodile. He's joined in his fight by Bridget Chronopolis and his navigator, the disembodied head of Sigmund Freud.
IDW's It's Alive imprint was launched in 2016 to save historically important comics (see "New Imprint 'It's Alive!' at IDW"). The imprint has resurrected Trina Robbins' adaptation of Sax Rohmer's Dope and Joe R. Lansdale and Sam Glanzman's Red Range, and a collection of Robbins' take on Tanith Lee's The Silver Metal Lover is due later this year (see 'The Silver Metal Lover').