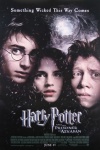 Harry Potter and the Prisoner of Azkaban plummeted 63% during its second weekend of release but its estimated $35 million total was more than enough to dominate the weekend box office proceedings for the second consecutive week. Although Prisoner had the strongest debut of all the Potter films, its sophomore slump has put it 15% behind the comparable cumulative total for the first Potter film, The Sorcerer's Stone.
The Vin Diesel sci-fi action film, The Chronicles of Riddick, came in second with an estimated $24.6 million total and a per theater average that almost equaled Harry Potter's. But Riddick did its best business on its opening night -- not a good sign when it comes to big budget summer action films.
Shrek 2
came in third, just a hair behind Riddick.

Dreamwork's animation powerhouse experienced the smallest drop in the top ten, a paltry 36.7% and became the fastest film to reach $350 million, beating Spider-Man's record by five full days.

With its gargantuan $354 million cumulative, Shrek 2 has now passed Finding Nemo and become the highest grossing animated film of all time.