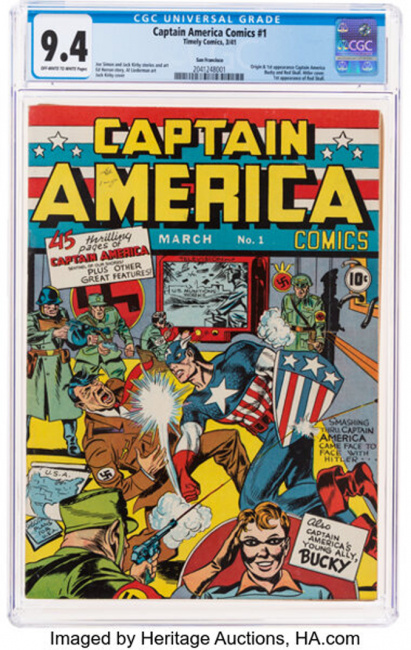 Heritage Auctions sold a CGC NM 9.4
Captain America Comics
#1 from the San Francisco Pedigree, with off-white to white pages, for $3.12 million, which is 3.4 times the $915,000 the same copy brought at auction less than three years ago (see "
'Captain America' #1 Gets Record Price
"). The sale took place in Heritage's April 7-10 Comics & Comic Art Signature Auction.
Captain America Comics #1 is now in the in the top five most expensive comics ever sold, just below Amazing Fantasy #15 at $3.6 million (see "Marvel's 'Amazing Fantasy #15' "), Action Comics #1 that sold on ComicConnect for $3.25 million, and another Action Comics #1 that sold for $3.2 million in 2014 (see "The First $3 Million Dollar Comic!").
Also of note, in an earlier art auction at Heritage, a Jack Kirby and Chic Stone Tales of Suspense #59 Captain America Splash Page 1 Original Art (Marvel, 1964) went for $630,000. Captain America was truly having himself quite a day on the auction block at Heritage.
Click on Gallery below for full-size images!