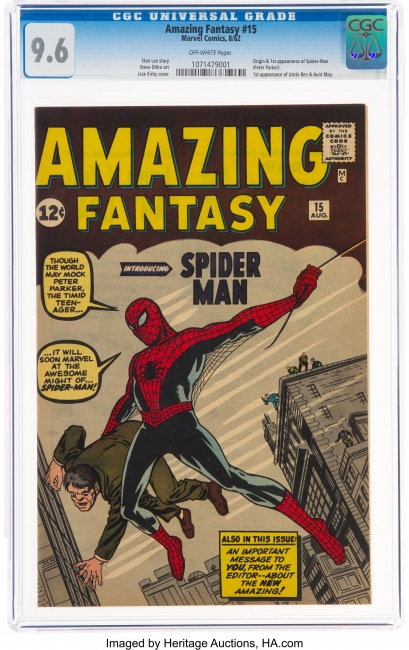 A CGC 9.6 copy of
Amazing Fantasy
#15 by Marvel Comics went for $3.6 million, including buyer's premium, at the Heritage Comics & Comic Art Signature Auction in Dallas, Texas on September 9, 2021.
Amazing Fantasty
#15 is the first comic book apperance of iconic Marvel characters Spider-Man, Uncle Ben, and Aunt May.
This is the highest price paid for any comic book, ever. The sale vaults Amazing Fantasy #15 over four copies of Action Comics #1, one which sold for $3.25 million on ComicConnect, another which sold for $3.2 million on eBay in 2014 (see "The First $3 Million Dollar Comic!"), the Nicholas Cage copy that sold for $2,161, 000 (see "'Action Comics' #1 Brings $2.16M"), and the 8.5 copy that sold in 2018 for $2,052,000 (see "'Action Comics' #1 CGC 8.5 Sells for Record Sum"). It also crushes the previous realized price for a CGC 9.6 copy of Amazing Fantasy #15 by $2.5 million (see "'Amazing Fantasy' #15 sells for $1.1 Million").
The copy of Amazing Fantasy #15 up for auction was as pristine as it gets; having no blemishes, chips, or color breaks on either cover. There are only three other CGC 9.6 copies of this book known, and no copies of Amazing Fantasy #15 have been graded at a CGC 9.8 or above.
Click on Gallery below for full-size images!