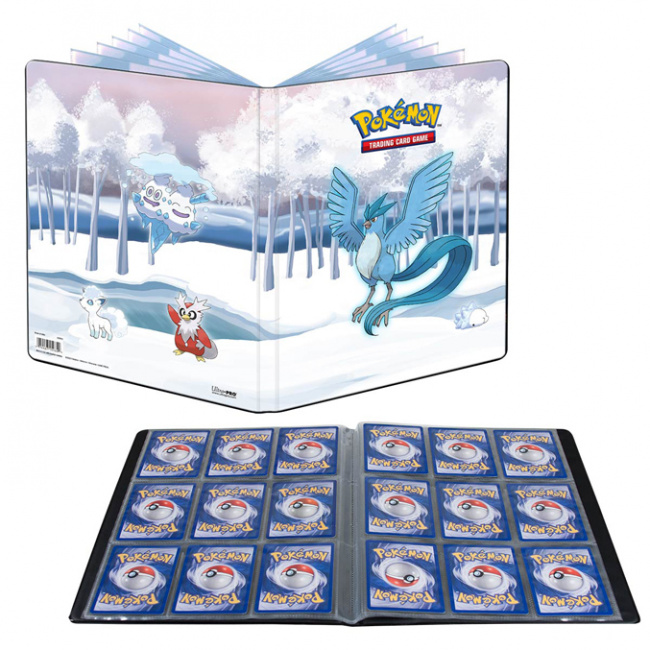 Ultra PRO will release the
Frosted Forest
, a new line of accessories for
Pokemon TCG
, into retail in Q3.
Trainers can explore the icy tundra of the Frosted Forest with these officially-licensed Pokemon TCG accessories. These accessories feature artwork depicting snow-bound Pokemon like Articuno, Alolan Vulpix, Vanilluxe, Delibird, and Snom. The following products will be released in this line:
Frosted Forest Full View Deck Box. This box holds up to 75 cards and comes with a themed divider and a self-locking lid.
Frosted Forest Alcove Flip Deck Box. This box has a leatherette exterior, and can hold up to 100 cards. A strong magnetic closure keeps the box sealed.
Frosted Forest 65 Deck Protector Sleeves. Each pack comes with 65 sleeves. Chromafusion technology prevents them from peeling.
Frosted Forest Playmat. This fabric-topped playmat is 24" by 13.5". It has a slip-resistant rubber backing and can make for an excellent mouse pad.
Frosted Forest 4-Pocket Portfolio. The 4-Pocket portfolio holds up to 40 single-loaded cards or 80 double-loaded cards. It is made of archival safe materials. The pages are acid-free, non-PVC.
Frosted Forest 9-Pocket Portfolio. The 9-Pocket portfolio can hold up to 90 single-loaded or 180 double-loaded cards on 10 high-clarity pages. The pages are acid-free, non-PVC.
Frosted Forest 9-Pocket PRO Binder. This archival-safe binder holds up to 360 cards, has side-loading pockets, and an elastic strap closure.
Frosted Forest 2" Album. It is three-ring binder designed to hold punched storage pages and has 2-inch thick D-rings.
Ultra PRO also revealed Pokemon First Partner Accessories Bundle, which will hit retail stores in Q3 2022 (see "'Pokemon First Partner Accessories Bundle'").
Click on Gallery below for full-size images!