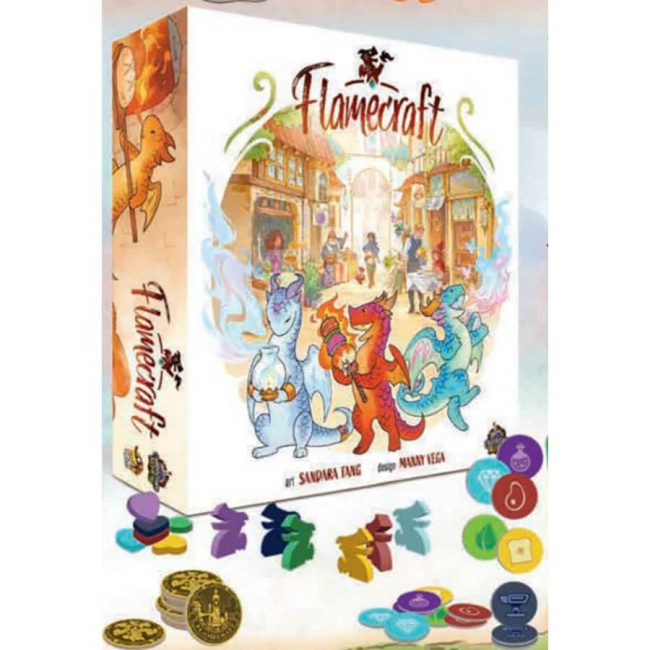 Lucky Duck Games will release
Flamecraft
, a new fantasy board game, into retail in Q4 2022.
In Flamecraft, players assume the roles of Flamekeepers, characters that can converse with artisan dragons. The goal of the game is for one of the players to become a Master of Flamecraft by garnering the best reputation in the town. Flamekeepers will gather items, place dragons, and cast enchantments to enhance the shops of their town. As they do this, their reputation will grow and they will be able to gain favors from the artisan dragons to make specialized goods. The mechanics of this game include city building, worker placement, and hand management.
The game box comes with a neoprene Town Mat, 210 Goods tokens, 24 Coin tokens, 34 Jumbo Shop cards, 8 player aids, 42 Artisan Dragon cards, 36 Fancy Dragon cards, 36 Enchantment cards, 7 Companion Dragon cards, 6 Wooden Dragon tokens, 6 Wooden Heart tokens, and a rulebook. This game is for one to five players, ages 10 and up, and plays in 60 minutes.
Lucky Duck Games also announced Pocket Detective: Season 1, a new crime-solving pocket game by Lavka Games (see " 'Pocket Detective: Season 1'").