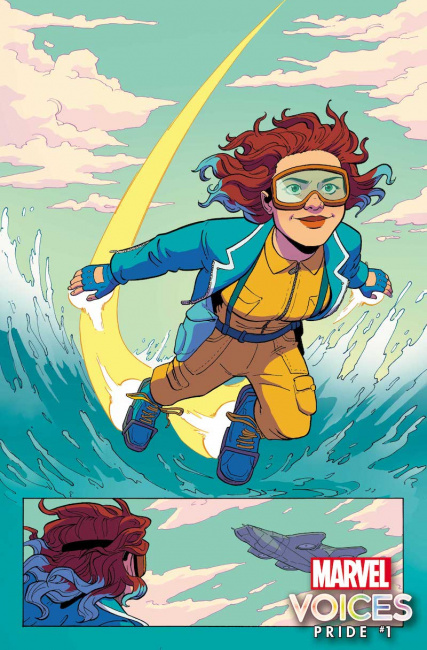 Marvel is introducing a new character, Escapade, who is trans, in the upcoming
Marvel's Voices: Pride
#1 in June. And she'll be back.
Escapade is Sheila Sexton, a mutant who wanders the Marvel universe with her best friend, Morgan Red, stealing tech from villains. She will debut in a 20-page story written by Charlie Jane Anders, whose prose work has won Hugo, Nebula, and Lambda Literary awards. The Eisner-nominated team of Ro Stein and Ted Brandt are the artists for the project, working with colorist Tamra Bonvillain.
Escapade's power is the ability to change places with another person or to trade anything, from solid objects to skills, powers, and situations, with them. The limitation is that she has to be within seven feet of the other person, and her powers only last for a few hours. There's plenty of scope for things to go wrong, especially if she's making a complicated set of changes, but Morgan stays close and has plenty of high-tech gadgets to help her out. In her first story, Escapade runs into Emma Frost and Destiny and learns a dire prophecy about her future. Then in the fall, she will return in a new story arc of
New Mutants
that will be scripted by Anders.
Marvel's Voices: Pride
#1 will be released on June 22. Marvel has also announced eight Pride variant covers for June (see "
Preview: Marvel 'Pride' Variant Covers
").
Click Gallery to see character designs!