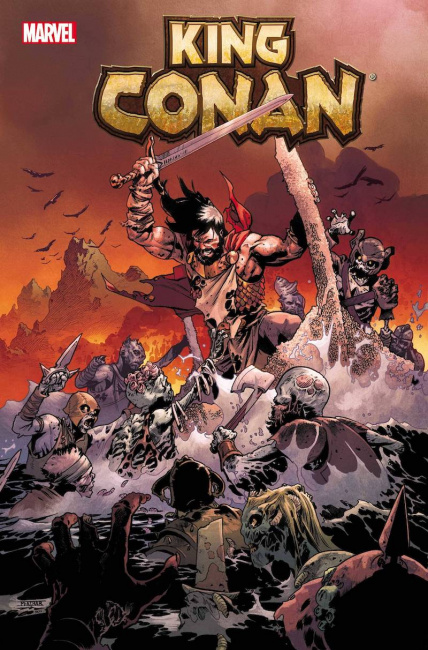 Conan may be leaving Marvel Comics, but he's not going very far; rights holder Heroic Signatures plans to create and co-publish new comics featuring the Cimmerian swordsman.
Marvel has announced its that its final original Conan comic will be
King Conan
#6, due out in July, although it will continue to publish collected editions of existing material through December.
"Marvel decided not to extend their license," Heroic Signatures President Fred Malmberg told ICv2, "so after twenty years we decided to start our own comics editorial team. We will be working with a co-publisher for English language (to be announced at a later point) and with our long term partner Panini for rest of world."
Last year, Heroic Signatures signed a deal with Titan Books to publish standalone Conan prose stories and novels (see "
New Conan Prose Fiction on the Way
"). The first of these,
Conan: Blood of the Serpent,
by S.M. Stirling, will be published by Titan Books in October.
Marvel's final periodical release,
King Conan
#6, by writer Jason Aaron and artist Mahmud A. Asrar, will street on July 6 with both a main cover and a variant cover by Asrar. The collected edition of that series,
King Conan
TP, will be released on August 24.
The remaining Conan collections coming from Marvel include:
Conan the Barbarian Epic Collection: The Original Marvel Years — Vengeance in Asgalun TPB
Conan the Barbarian: The Original Marvel Years Omnibus, Vols. 8, 9, and 10 HCs
Conan the King: The Original Marvel Years Omnibus, Vol. 1 HC
King Conan Chronicles Epic Collection: Phantoms and Phoenixes TPB
Savage Sword Of Conan: The Original Marvel Years Omnibus, Vol. 8 HC
Heroic Signatures was formed when online game publisher Funcom acquired The Cabinet Group, which holds the rights to Conan, Solomon Kane, and a number of other properties (see "Funcom Acquires Cabinet Group").