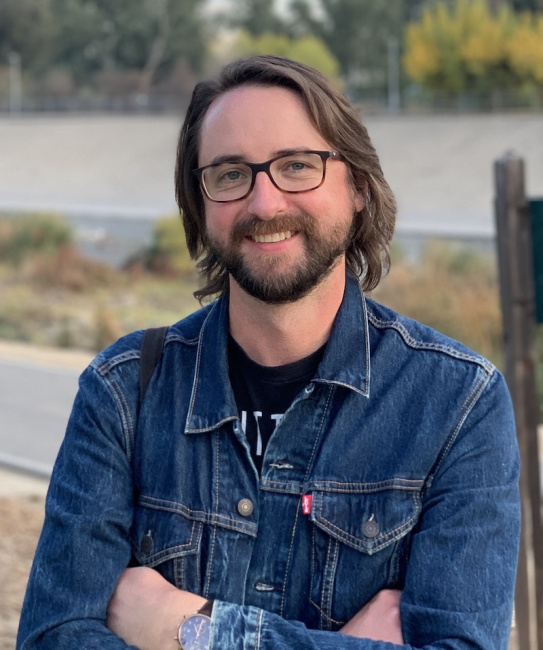 Former DC Executive Editor Mark Doyle came to IDW in 2021 as Editorial Director of IDW Originals (see "
IDW Announces Three New Hires
") and has spent over a year building the line; the first nine titles were announced in April 2022 (see "
IDW Announces Nine New Original Comics Series
"). We caught up with him to talk about his plans for developing and supporting the new line as well as his thoughts on the leadoff title, Scott Snyder's
Dark Spaces: Wildfire.
ICv2: First of all, what is your goal with the IDW originals line?
Mark Doyle: To build a home for a diverse lineup of talent from all walks of life and build a balance of bestselling writers and artists to up-and-coming talent who you don't know yet but will grow to love!
That mission is really clear in our first title out this July, Dark Spaces: Wildfire, from Scott Snyder, Hayden Sherman, and Ronda Pattison, with letters from Deron Bennet.
Scott is a massive, best-selling talent and incredible storyteller, but it was important to him to work with someone who hasn't had as much of a spotlight like Hayden. They've been doing great books for a few years now, but I think their work has been a little under-the-radar. Ronda is a spectacular colorist with over twenty years of experience and accolades. Deron is a terrific talent and he's been lettering books for ten years, but I think he's really blown up over the past five years or so.
This crew, this book, exemplifies everything we want to do with the line.
How will IDW's new original releases be different from what retailers are seeing now, either from IDW or from other publishers – what will set them apart?
I think what sets this apart from IDW comics of the past is an overall plan. IDW has published some of my favorite original comics in the past, but I don't know if it ever felt like an overall strategy. IDW today has a completely different group of incredibly talented people—both behind the scenes and the talent making the books—who are building on that legacy and branching out in ways we've never done before. It's exciting!
Will the new IDW originals be branded any differently than previous IDW original releases?
Yes. The IDW Original branding will be clear and I hope, over time, become something that readers look for and know means quality.
What do you think makes a comic or graphic novel a good fit for the line? Are you focusing on particular genres, styles, or creators?
No particular focus, just great stories. Great art. Great characters. We live in an amazing time where comic books are everywhere! People are much more familiar with this type of storytelling than they were when I was growing up. So I just look for stories that tap into that audience potential and build on it.
Are you taking pitches from creators or working with creators to develop a project?
Both. We take pitches from creators and help them develop them. But we also do a lot of reaching out to talent who are doing great comics in different spaces but maybe haven't found a traditional, mainstream audience—yet—or reaching out to talented writers and artists who have never done comics before and helping them build something for this space.
Who do you think Dark Spaces: Wildfire will appeal to?
I think Dark Spaces: Wildfire will appeal to fans of Scott's work or folks who have never read a book written by him before. I've been working with Scott for a long time and he's a masterful storyteller, capable of big, bombastic stories. But he also really loves tight, psychological thrillers. That's what he's building here and it's so great to see.
Also, Wildfire will appeal to fans of great art! Hayden Sherman blows me away with every panel, every page. And with Ronda's incredibly unique approach to the palette of this book, I think people are going to flip.
Not to mention, it will appeal to fans of great stories, characters, group dynamics and characterization, thrilling situations, great drama…
So, I guess…everyone!
What marketing support will IDW be providing for the new originals launch(es)?
IDW is investing serious capital in the forthcoming Originals projects, so fans can't help but sit up and take notice. We're focusing on social media promotion with heavy creator participation, substantial online and print advertising campaigns, expanding brand awareness through strategic partnerships, innovative fan engagement activations at conventions, retailer outreach programs courtesy of our distributor Penguin Random House Publisher Services, and robust news media coverage with creator interviews, exclusive features, and reviews.
Why should retailers invest their space, time, and money in this new line of IDW originals?
Because we're building something special here and there's a strategy. It's not just throwing things at the wall to see what sticks. It's about thinking about the collection while working on the first issue to make sure there's cohesion and that everything fits as part of our massive publishing plan. It's about looking at what's working in the YA and Middle Grade market—and what's not—and building books for those audiences and the audiences that are not being served. It's about a massive behind-the-scenes team of people who are passionate about comics and want to see this whole line succeed as part of our overall publishing strategy.
And I truly believe that some of the up-and-coming writers and artists and editorial talent who I'm working with right now will be the superstars of tomorrow, so you'll want to get involved today!
Click Gallery for Dark Spaces: Wildfire covers and interior art!