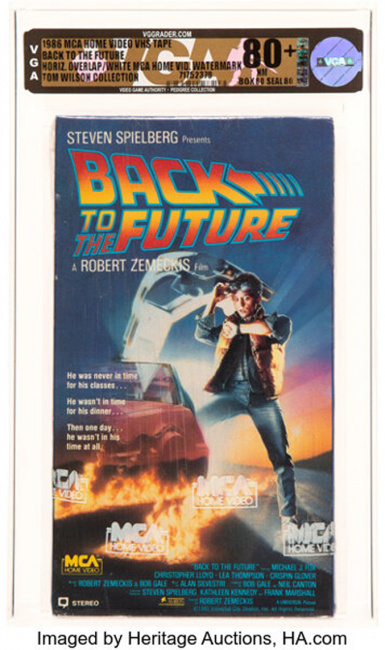 A VGA 80+ NM graded copy of
Back to the Future
realized a value of $75,000 at Heritage Auctions on June 9, 2022.
This 1986 copy of Back to the Future is one of the earliest known VHS copies of the movie, released by MCA Home Video. The copy was sent to Tom Wilson, the actor who played Biff Tannen in the movie, by the studio, which created an elite pedigree for this tape. The tape is graded at a 80+ NM with matching box and seal subgrades of 80. The piece also came with a handwritten note by Tom Wilson, verifying the pedigree.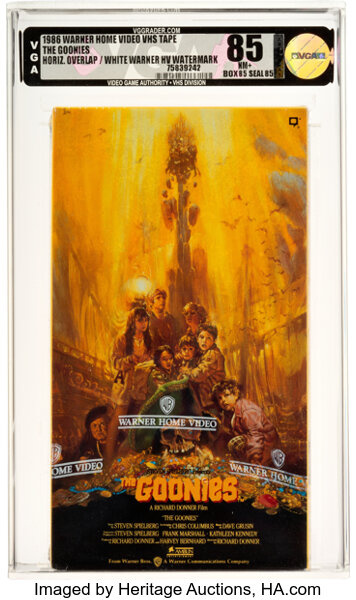 Also of note from this auction, a 1986 VGA 85 NM copy of
The Goonies
went for $50,000, and a 1983 IGS 8.5 NM copy of
Jaws
went for $32,500. Additionally, a 1984 VGA 85 NM copy of
Star Wars (A New Hope)
hammered at $22,500.
Heritage Auctions also recently sold a CGC NM 9.4 Captain America Comics #1 from the San Francisco Pedigree for 3.4 times the price the same copy brought at auction in 2019 (see "'Captain America Comics' #1 More Than Triples").
Click on Gallery below for full-size images!