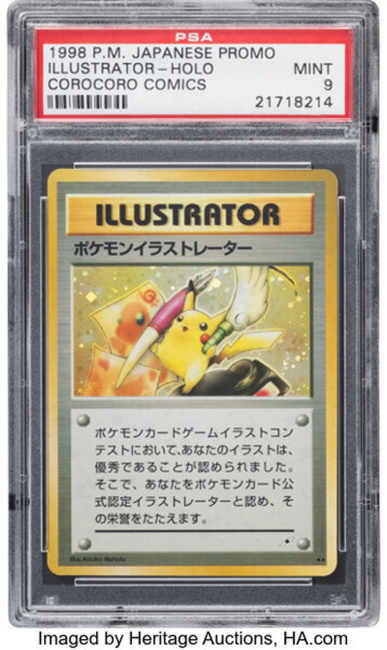 A
PSA 9 Pokemon TCG "Pikachu" Illustrator Unnumbered 1998 CoroCoro Comics Promo
sold for $840,000 at Heritage Auctions' June 11-12, 2022 Trading Card Games Signature Auction.
This Pokemon TCG promo card is considered one of the "Holy Grails" of the game for collectors, as it was only given to winners of an illustration contest through CoroCoro Comics. There were a total of 39 copies of this card distributed. Recently, a PSA Gem Mint 10 graded copy of the card was sold to Logan Paul in a private sale of $5,275,000. Paul appeared at the WWE's Wrestlemania event wearing the card on a gold chain on April 2, 2022. This auctioned PSA 9 copy sold for only 16% of the PSA Gem Mint 10 copy's private sale.
Also, a Pokemon First Edition Base Set Sealed Booster Box went for $204,000 in this auction. These boxes had begun their retreat in 2021 off their high of $408,000, down to $360,000 (see "Box Prices Retreat at HA"). This sale is half the price of the highest sale number at Heritage.
Click on Gallery below for full-size images!