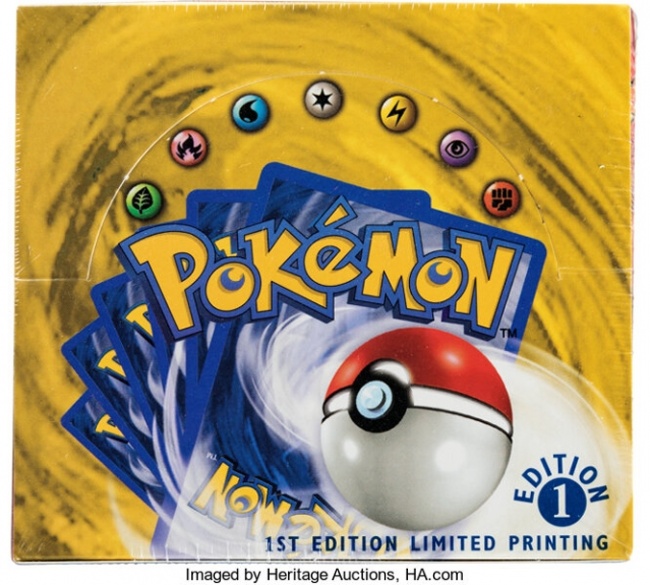 Heritage Auctions sold a
Pokemon TCG 1st Edition Base Set
Sealed Booster Box at auction for a $360,000 on March 26 at their Trading Cards Special Online Auction, which is down from January auction prices.
The rapid increases in the value of sealed Pokemon TCG 1st Edition Base Set boxes seemed to have to take a breather, for the moment. After touching a record-high of $408,000 in January (see "Another Heritage Auction Brings Yet Another Record-Setting Sales Number for 'Pokemon TCG 1st Edition' Sealed Product"), a Pokemon TCG 1st Edition Base Set box sold for $360,000 at the March 26 Heritage onlince auction, which represents about a 12% pullback in realized price. A 12% pullback is unlikely to represent a greater downward price trend, as it matches the price realized for a Pokemon TCG 1st Edition Base Set sold in November (see "Heritage Auctions Sets a New Record Sale Price for a Sealed 'Pokemon 1st Edition' Booster Box"), but it does indicate that $408,000 may be the high-end of the box's price range for the short term.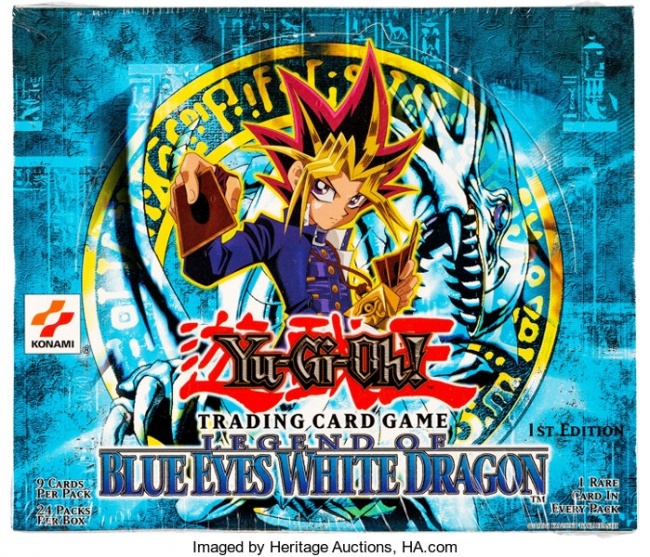 However, contrary to the
Pokemon TCG
pullback
, a Yu-Gi-Oh! First Edition Legend of Blue Eyes White Dragon
sealed booster box realized an auction price of $40,800. While the sale is not near
Pokemon TCG 1st Edition Base Set
sealed box realized numbers, it shows that these first-release
Yu-Gi-Oh!
boxes have been trending upward in price. On January 25, a similar sealed box went for $35,000 on eBay, and then, on March 10, another went for $35,915.33 on the same auction platform. The March 25 sale represents a 12% increase in value in a little over two weeks.