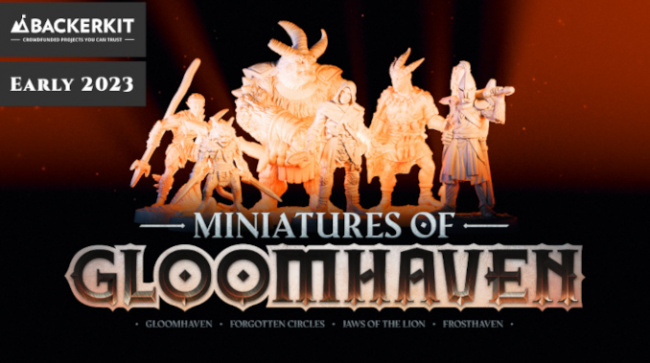 Cephalofair Games, publisher of
Gloomhaven
and the upcoming
Frosthaven
, the biggest tabletop game Kickstarter ever, will mount its next crowdfunding campaign on new platform Crowdfunding by Backerkit, one of 30 "launch" creators that have announced similar moves, the company announced. Other game publishers making the move include Monte Cook Games, Restoration Games, Leder Games, Greater than Games, Rocketship, and Deep Water Games, among others.
Miniatures of Gloomhaven
, the upcoming Cephalofair campaign, will be for a 500+ count miniature line for
Gloomhaven
,
Forgotten Circles
,
Jaws of the Lion
, and
Frosthaven
. It will kick off in Q1 2023. The campaign will also include access to a second printing of Frosthaven, which will also include copies for trade distribution (see "
'Frosthaven' Retailer Shipping Update
").
BackerKit, which grew out of a successful 2010 Kickstarter campaign, has provided tools to support and manage Kickstarter campaigns and fulfillment, but has now moved to add crowdfunding to its suite of services. "When the time came to choose a platform for our next project - Backerkit was the immediate first thought," Cephalofair Games COO Price Johnson said of Backerkit's move to crowdfunding. "The ease in which we were able to leverage their platform to grow, and more importantly serve, our community was incredible - and it only made sense to ask if Crowdfunding itself was something they could incorporate into their already immense tool kit."
Kickstarter-raised funding for tabletop games has been growing for seven consecutive years, hitting $272 million in 2021 (see "
Tabletop Games Record on Kickstarter
"). But game publishers have begun seeking alternatives. New crowdfunding platform Gamefound raised $22 million in its first year (see "R
avensburger Invests in Gamefound
"). Then late in 2021, Kickstarter announced a move to incorporate blockchain into its operations, which sent more project creators looking for options (see "
Notes from the Bottom-Up Revolution
"). Backerkit is now taking advantage of the opportunity, with projects that will raise substantial amounts already committed to crowdfund on its new Crowdfunding by Backerkit platform.