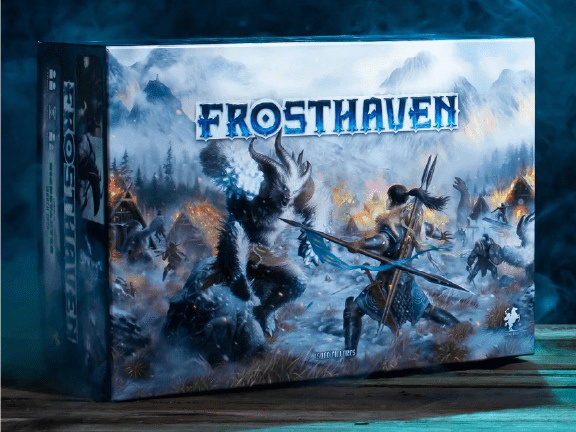 We reached out to Cephalofair Games for an update on the company's plans for shipping
Frosthaven
, which set the record as the biggest tabletop game Kickstarter, to retailers. When the Kickstarter for the game ran in the early days of Covid, back in April 2020, fulfillment was planned for March 2021 (see "
'Frosthaven' Kickstarter Tops $5.5M in 2nd Day
"), with trade distribution to follow. The game ended up raising nearly $13 million, including orders from 600 retailers worldwide (see "
'Frosthaven' Kickstarter Raises Nearly $13 Million
"), creating the need to move massive amounts of product through Covid-constrained supply chains.
First up is backer fulfillment, including shipments to the 600 retailers that backed the Kickstarter. "We're formally heading into production this week," Cephalofair COO Price Johnson told ICv2. "Ideally we'll see containers start to move within 45-60 days, with fulfillment beginning once it lands, and continue through the end of the year, however long it may take. In talking with our fulfillment partners, this is easily one of the largest projects any of them have tackled to date. But we anticipate being done with all consumer and retailer pledge deliveries this year."
Once the backer fulfillment is complete, Cephalofair plans a new crowdfunding project for a second printing of
Frosthaven
(see "
Cephalofair Switches to BackerKit
"). That print run will include copies for trade distribution, Johnson told us." This 2nd printing will align with the first ACTUAL distribution destined print run," he said.
MSRP for the trade release has been set at $250 MSRP.