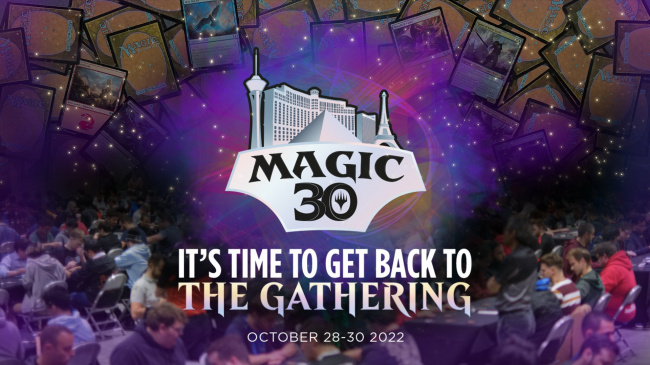 Wizards of the Coast has partnered with ReedPop for Magic 30, an event to kick off
Magic: The Gathering's
30th anniversary celebration, which will happen from October 28-30, 2022 at the EXPO at World Market Center in Las Vegas, NV.
Magic: The Gathering is approaching the 30th anniversary of its general release, which happened in 1993. They are kicking the celebration off a little early by launching a both in-person and virtual event in Las Vegas during Halloween weekend. The in-person event, run by ReedPop (see "ICv2 Interview"), will include a Modern tournament that finishes with a Top 8 draft where players will draft Beta edition cards and the Magic World Championship XXVIII event. There will also be Unfinity events hosted by lead designer Mark Rosewater, panel events, cosplay, and more. This event will also feature its own exclusive Secret Lair set.
Wizards of the Coast also unveiled Secret Lair June 2022 Superdrop, the next wave of Secret Lair sets for Magic: The Gathering (see "'Secret Lair June 2022 Superdrop'").