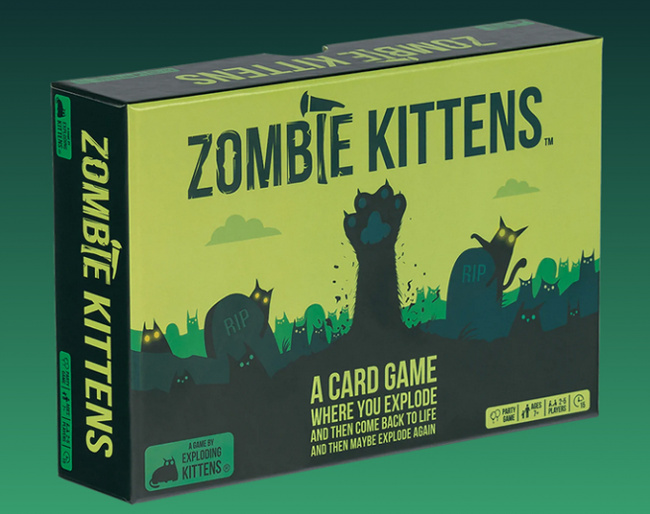 Exploding Kittens will release
Zombie Kittens
, a new card set that can be played either as a standalone game or with the
Exploding Kittens
card game, to game stores after a release at mass retail, the company confirmed. The game was launched in Target and the company announced this week that it will be released in Walmart in August. An Exploding Kittens spokesperson confirmed that there will be a hobby trade release, but said "Exploding Kittens doesn't have confirmed orders yet from the hobby trade [for
Zombie Kittens
], so they will most likely follow Walmart's release."
This iteration of the game goes beyond the grave, and for the first time in Exploding Kittens games, players can be resurrected in the game. Players that explode can be brought back to life via the new Zombie Kitten card, and seek revenge. Beyond the new resurrection mechanics, it also features cards with artwork by Matthew Inman, the creator of The Oatmeal.
This game can support two to five players, ages 7 and up, and plays in 15 minutes. It will retail for $20.99.
Exploding Kittens also recently revealed Poetry for Neanderthals: Not Safe for Work Edition, an adult edition of the word-guessing game (see "'Poetry For Neanderthals: Not Safe For Work Edition'").