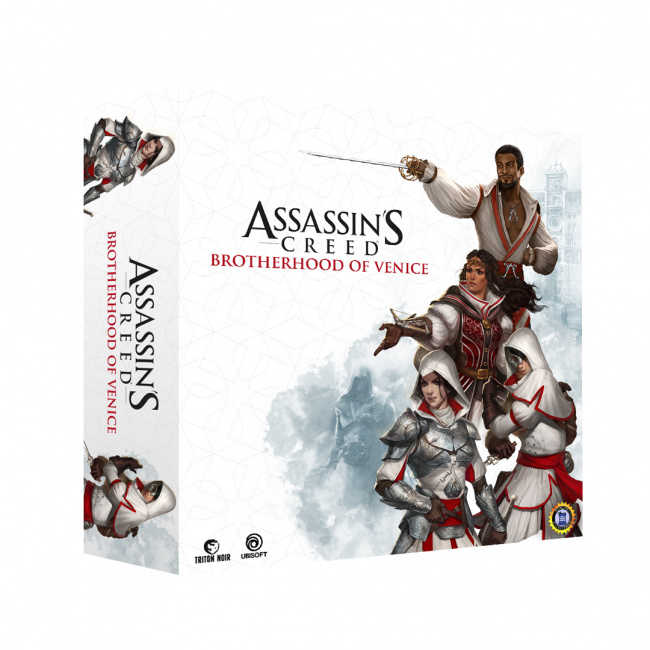 Flat River Group will release
Assassin's Creed: Brotherhood of Venice
, a new miniatures board game by Triton Noir, into retail in Q4 2022.
In this cooperative game, players dive into the Italian Renaissance to play through a story-driven campaign, 26 Memories in Venice. They assume the roles of a small team of assassins in charge of setting up the Brotherhood's Headquarters there. Along the way, they will be tasked with investigating new threats to the Brotherhood and eliminating them. Players have their pick of Assassins with unique abilities, and they will encounter famous personalities throughout the campaign.
The game box comes with 5 Assassins miniatures, 139 cardboard miniatures, 6 Secret Envelopes, 1 HQ Envelope, 41 tiles, 180 large playing cards, 232 small playing cards, 22 custom dice, 4 double-layered player boards, a HQ board, an Enemy board, a Compass board, 60 tokens, 5 clip-on bases, 67 plastic cubes, a sticker sheet, a campaign booklet, and a rulebook. This game is for one to four players, ages 14 and up, and plays in 30 to 60 minutes. It will retail for $139.99.
Hachette Boardgames also announced an Assassin's Creed game, Orlog: Assassin's Creed Valhalla (see "'Orlog: Assassin's Creed Valhalla'").