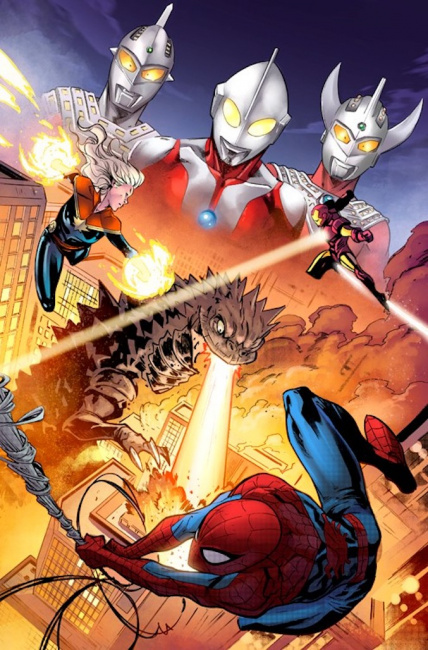 Spider-Man, Iron Man, and Captain Marvel will team up with Ultraman and Ultra Seven to battle both kaiju and Marvel supervillains in the first-ever Marvel Universe/Ultraman crossover miniseries.
Series co-writer Mat Groom announced the new miniseries at the Ultraman panel at Anime Expo but did not reveal the title of the series, which will launch in 2023. This will be the fourth Marvel Ultraman series but the first in which the Marvel Universe crosses over with the Ultraman universe. The stories will be set in the current Marvel Ultraman continuity and will contrast the personalities of the Marvel and Ultraman heroes.
Marvel announced it would be publishing new Ultraman comics at Tokyo Comic Con in 2019 (see "Marvel to Produce New 'Ultraman' Comics and Graphic Novels"), with stories based on the first generation of Ultraman shows from the 1960s. Groom and Kyle Higgins have co-written three series so far: The Rise of Ultraman (see "The 'Rise of Ultraman' #1 Cover Art and Deets Revealed at C2E2"), The Trials of Ultraman (see "Marvel Offers Up Another Installment of 'Ultraman' Comics"), and the upcoming Ultraman: The Mystery of Ultraseven, which will launch in August. Viz publishes the Ultraman manga.
The Ultraman anime is currently in its second season on Netflix (see "Netflix Announces New Anime, Live Action Titles").